Another year draws to a close and the argument of who deserves the accolades for a star showing over the last calendar year begins. FIFA 19 celebrate this by releasing special blue cards with greatly buffed up stats to make the selected team of 11 players the best cards in the game.
As voted on by the media, athletes and EA Sports themselves the 55 nominees get whittled down to just 11 for the prestige of featuring in the Ultimate XI. As quoted by EA
This collective of ballot recipients has been chosen to represent the millions of EA SPORTS FIFA players all over the world. Each team will be selected from a shortlist of 55 players, nominated by EA SPORTS for their real-world performance in 2018″, "The final Team of the Year will be announced starting on January 7, with special TOTY player items available in packs for a limited time in FIFA 19 Ultimate Team".
For those wanting more specifics, the FIFA 19 TOTY will consist of three attackers, three midfielders, four defenders and one goalkeeper in a 4-3-3 formation.
Like last year, EA Sports has decided that the final decision will be made based on the ballot votes, which account for 60 per cent of the total vote, with the remaining 40% of the vote cast by EA SPORTS.
So one would assume that starting this weekend will be the trailers and snippets of info coming out regarding the winners in each category.
On a personal note, I always think EA get some of this wrong each year, one can't argue with Alisson and Oblak based on club success, De Gea is probably the best goalkeeper in the world so that's understandable. Courtois included for the world cup campaign? Lloris had a solid season with spurs and won the world cup so that's justified. I could name Ederson and Ter-Stergen (who had a superb season with Barca) that should have been included over the big Belgium shot-stopper.

GOALKEEPERS
Alisson
Oblak
De Gea
Hugo Lloris
Courtois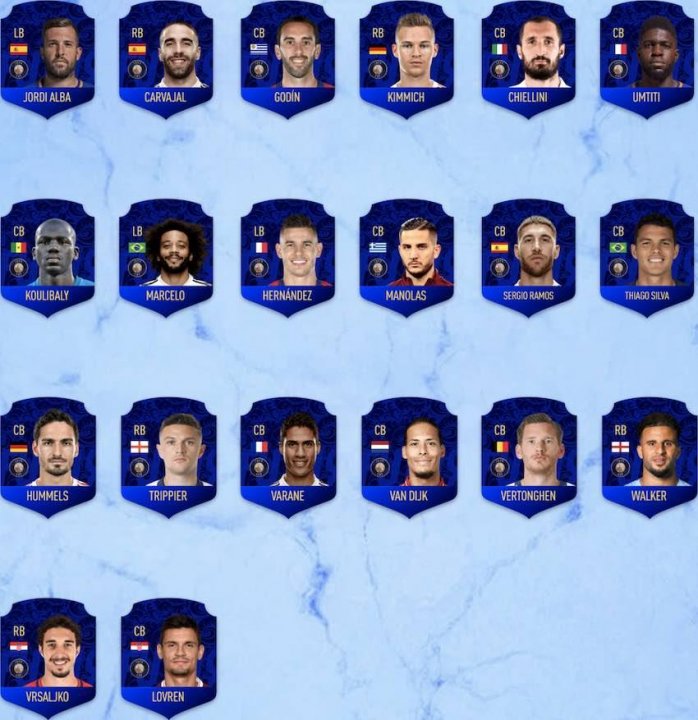 Onto the defence catergory and it's hard to argue with many of the choices here. Though Lovren shouldn't be anynear a team of the year celebration, and I'm not sure what Vrsaljko has done except warm the bench at Atletico Madrid for half a season. I'd of probably liked to see Andrew Robertson or Alex Sandro make the list at the expense of Jordi Alba (who surprisingly has been linked with a move away from Barca), but it wasn't to be.
DEFENDERS:
Jordi Alba
Carvajal
Godin
Kimmich
Chiellini
Umtiti
Koulibaly
Marcelo
Hernandez
Varane
Van Dijk
Vertonghen
Walker
Vrsaljko
Lovren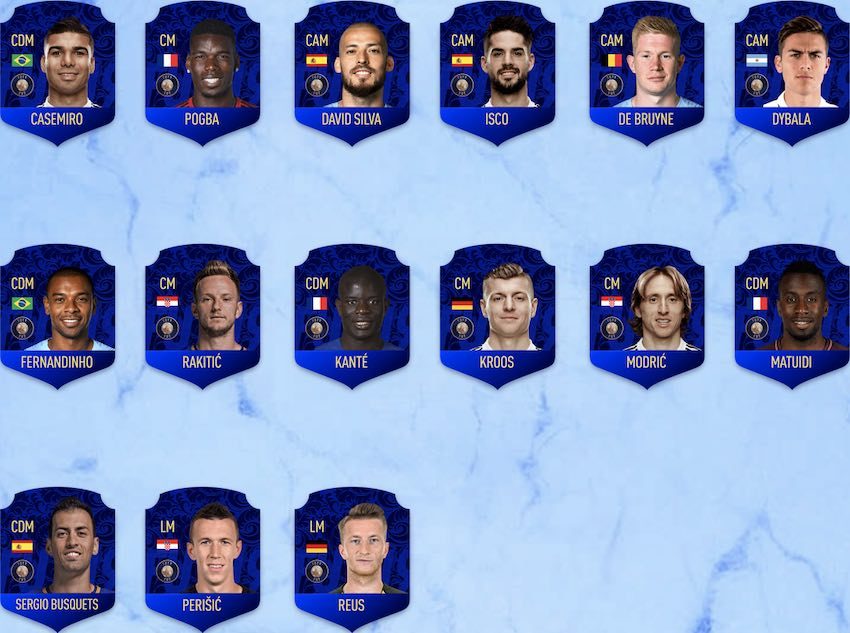 In midfield, I find it laughable that Paul Pogba features, he had a modest campaign at Manchester United in the league last season and has been even worse in this seasons campaign. Rewarded for a stellar world cup showing in a team that was heavily favored should not warrant featuring in this exclusive offering. Modric rightly features for a glorious 2018 that included the ballon d'or, a world cup runners-up medal and the champions league.
MIDFIELDERS:
• Casemiro
• Pogba
• David Silva
• Isco
• De Bruyne
• Dybala
• Fernandinho
• Rakitic
• Kante
• Kroos
• Modric
• Matuidi
• Sergio Busquets
• Perisic
• Reus
Lastly, the forward nominees and this will be a tough one to call. Ronaldo continues to break records with Juventus, Messi had a disastrous world cup but has had a very strong comeback in La Liga, during the opening half of this season. Griezmann played his role in France and Atletico's success stories in 2018, whilst Mo Salah had a scintillating 2018 leading Liverpool to a European final and being amongst the scorers for Egypt in the world cup. With exception to Mane, Bale, Neymar, Hazard, and Mandzukic any of the other nominees have a legit case of winning the vote.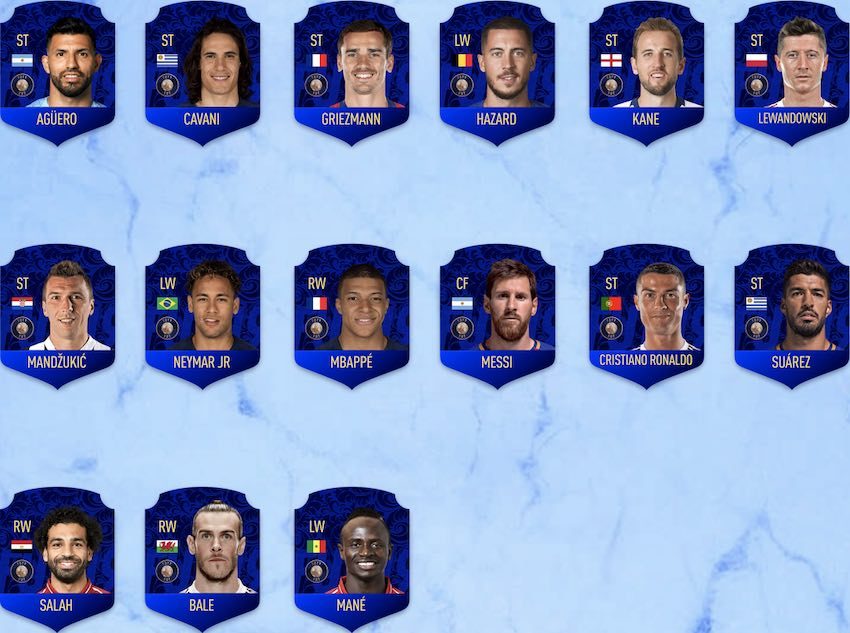 • Aguero• Cavani

• Griezmann

• Hazard

• Kane

• Lewandowski

• Mandzukic

• Neymar Jr

• Mbappe

• Messi

• Cristiano Ronaldo

• Suarez

• Salah

• Bale

• Mane