FIFA 20 is here, and for all you Ultimate Team loving gamers out there, it can only mean one thing. Yes, Team of the week is back and with it comes some shiny new templates and an awesome lineup in time for the upcoming launch
The big arrogant Swedish legend gets his first team of the week card for another typical Ibra show. 3 goals, 3 points, and a headlining performance rightly leads to Zlatan being rewarded with a decent 86 rated inform card. The card is a strong, powerful, almost bully-like card with sound stats across the board. 57 Pace, 80 dribbling, 89 shooting, 79 passing, 79 physicality. Obviously the lack of pace will hurt the card, as will a rating of 68 jumping. With ratings of 84 reactions, 92 composure, 91 Attack positioning, and 91 shot power. The chances are he'll be in the right place at the right time to get another headline performance for all you FIFA 20 UT gamers out there.
Dries Mertens is coming off the back of a superb week in world football. Scoring in the impressive midweek champions league win V Liverpool and stealing the show with 2 goals in the Serie A fixture against Sampdoria last weekend (the first being sublime). The 88 rated inform card will be highly sought after in the early stages of the game as it offers quick pace, nice finishing stats, and superb dribbling ratings. The ratings are as follows: 89 pace, 91 dribbling, 85 shooting, 82 passing, 54 physicalities.
Liverpools Sadio Mane takes a walk on FIFA's Hollywood carpet this week after capping off last weekends 3-1 comeback v Newcastle United with a brace. The Senegalese international will probably be the most desirable card from the BPL. Due to the cards insane speed ratings and the 4* skills & WF coupled with a central ST role awarded to the card. The inform has 95 pace, 89 dribbling, 85 shooting, 79 passing, and 75 physicalities. Expect the card to be sell for 500,000 coins +.
FIFA 20 Ultimate Team TOTW 1 Starting XI:
GK: Manuel Neuer (Bayern Munich) – 89 OVR
RB: Serge Aurier (Tottenham Hotspur) – 82 OVR
CB: Laurent Koscielny (FC Girondins de Bordeaux) – 84 OVR
LB: Nicolás Tagliafico (Ajax) – 84 OVR
RM: Gerard Moreno (Villarreal) – 84 OVR
RM: Luis Nani (Orlando City) – 83 OVR
CDM: Thomas Delaney (Borussia Dortmund) – 84 OVR
CM: Frenkie de Jong (Barcelona) – 86 OVR
ST: Sadio Mane (Liverpool) – 89 OVR
ST: Karim Benzema (Real Madrid) – 88 OVR
ST: Dries Mertens (Napoli) – 88 OVR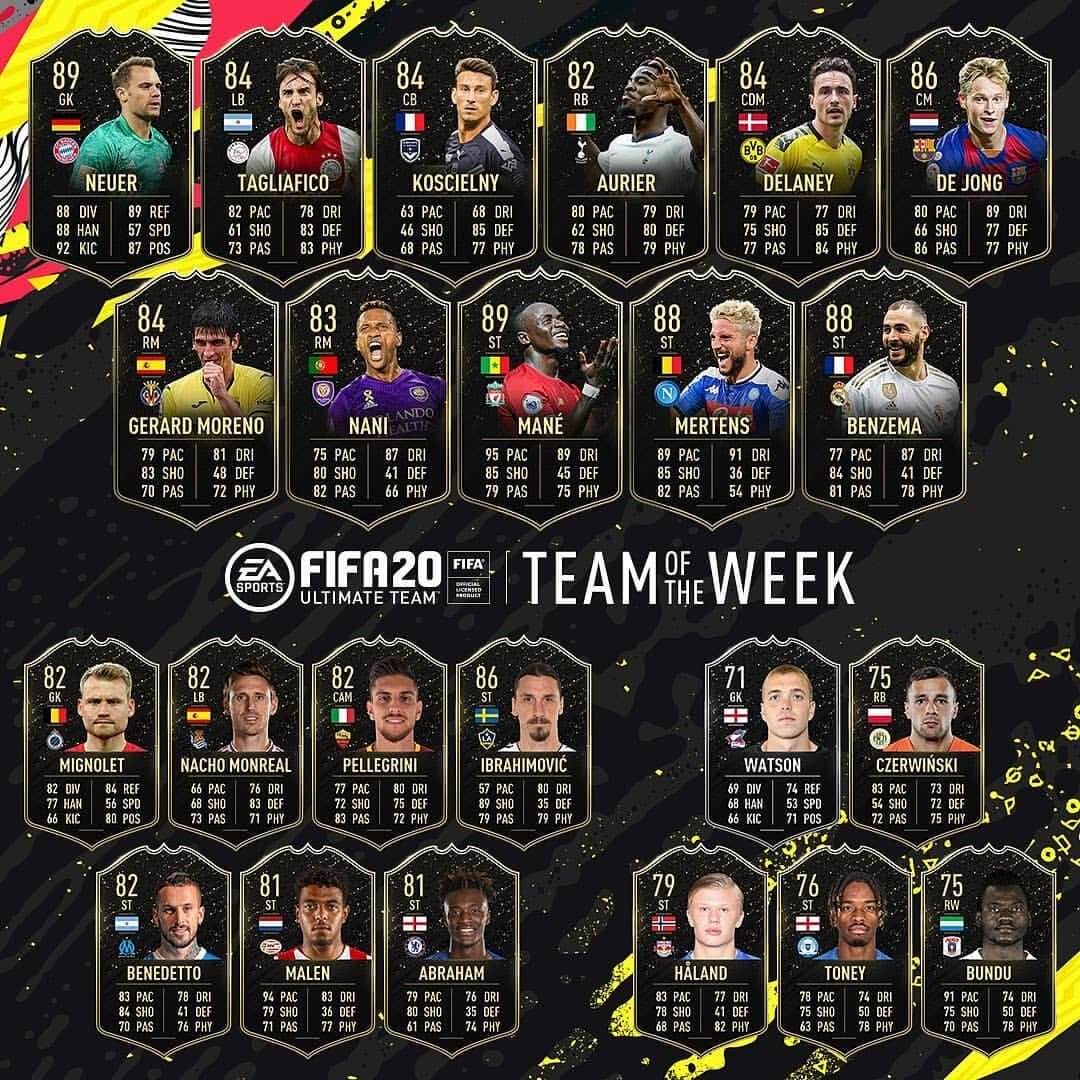 FIFA 20 Ultimate Team TOTW 1 Substitutes
GK: Simon Mignolet (Club Brugge) – 82 OVR
LB: Nacho Monreal (Real Sociedad) – 82 OVR
CAM: Lorenzo Pellegrini (AS Roma) – 82 OVR
ST: Zlatan Ibrahimovic (LA Galaxy) – 86 OVR
ST: Darío Benedetto (Marseille) – 82 OVR
ST: Donyell Malen (PSV Eindhoven) – 81 OVR
ST: Tammy Abraham (Chelsea) – 81 OVR
FIFA 20 Ultimate Team TOTW 1 Reserves
GK: Rory Watson (Scunthorpe United) – 71 OVR
RB: Alan Czerwinski (Zagłębie Lubin) – 75 OVR
ST: Erling Braut Haaland (RB Salzburg) – 79 OVR
ST: Ivan Toney (Peterborough) – 76 OVR
RW: Mustapha Bundu (Aarhus AGF) – 75 OVR
Will you be purchasing FIFA 20 this football season? Any thoughts on this weeks Team Of The Week lineup? Drop GameHype your thoughts in the comments box below.