Hay there, the development team over at Giants software are back with 2019's Farming Simulator, promising new features, an intriguing online mode, and an overhauled graphics engine. Could Farming Simulator 19 be the best entry in the series to date?
In short yes!
The objective in Farming Sim 19 is to successfully invest in assets, resources, stock, land, equipment (and more) to turn your initial pot of funds into a farm with high operating profits.
Easy enough??
(Most certainly not)
I would absolutely advise all newcomers to the genre to utilise the tutorials. They give a real insight into the routine of maintaining healthy crops, foresty, baling, fertilizing, soil care and arable farming. (The 6 key aspects in the simulator).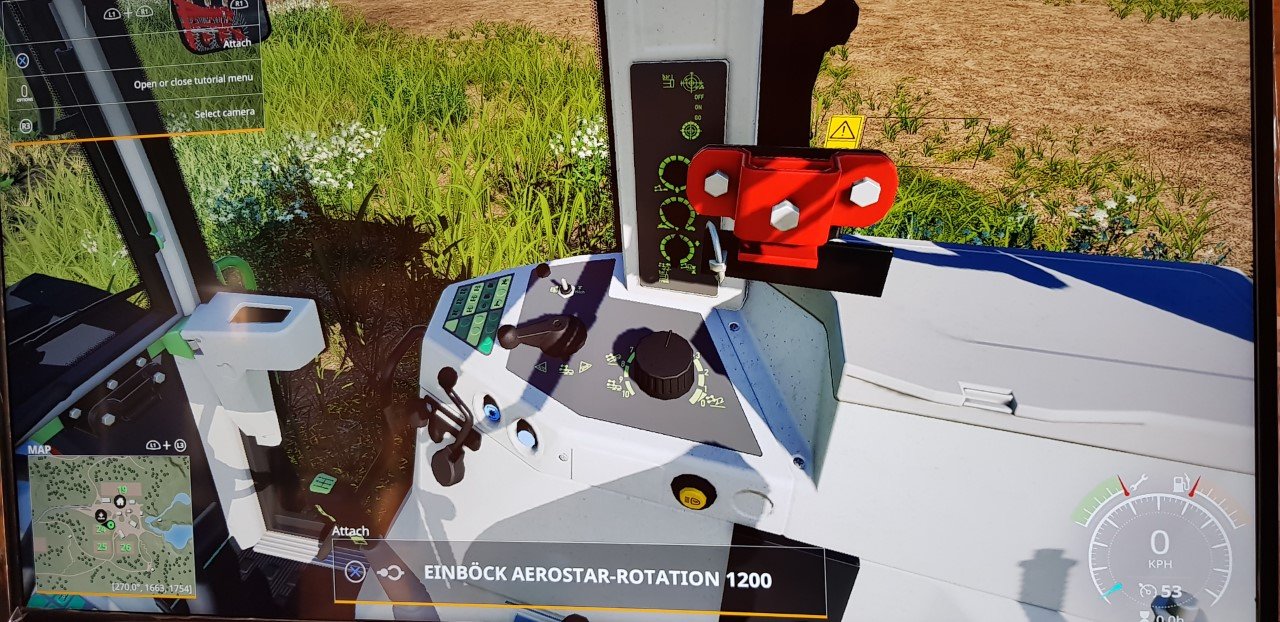 The modes on offer include a career mode, multiplayer, tutorials and mods. (It has been confirmed mod support will be live at launch).
The career mode gives players the opportunity to test their mettle at starting up and maintaining a farm of their own. With one of three difficulty tiers, from having a helping hand as a new farmer to going it alone and starting out with limited capital. Each aspect of farming has a depth of its own,13 different crops include sugarcane, oilseed radish, and barley. With the oilseed radish being a special crop, that requires no harvesting at the end, the yield is 30% higher. My point being some crops are more complicated than others. This can be very time consuming, repetitive and equally frustrating, but if done right the profits from the market can be nicely rewarding. (The market rates do fluctuate so it's wise to sell at the right time).
The character creation is a rather limited customisable option that (before getting your boots dirty) allows you to create your own player. With 20 shirt colours, a small number of hairstyle edits and an abundance of caps to choose from.
You pick one of two towns to start in, and the guided tour tutorial helps you understand the purpose of what you're doing and how to explore the open world. The old saying patience is a virtue certainly applies in the title as this is not a pickup and play experience.
Financial management quickly became apparent to me as being just as important as most other aspects in the sim. How quickly is your money pot reducing, do you have enough to fund workers, is the livestock content. Perhaps a bad business model will lead to a mass sale of vehicles. The sim has many ways of making sure you keep an eye on the pennies. Ways of increasing this would be to sell plots of land. Undertake some contracts, all vary in scope of reward and method, or perhaps have some loans and pay them back at a later date when the farm is better run.
As I handled numerous vehicles from the likes of a New Holland TX 32 to a John Deere 9RX (a first in the farming sim series) and all fantastically detailed. I was very impressed with how each vehicle felt unique and different from each other. The ground surface influences the suspension of the tractor as it bobbles from side to side whilst driving around the field. The mechanics of the steering and manoeuvring was pretty smooth and uncomplicated.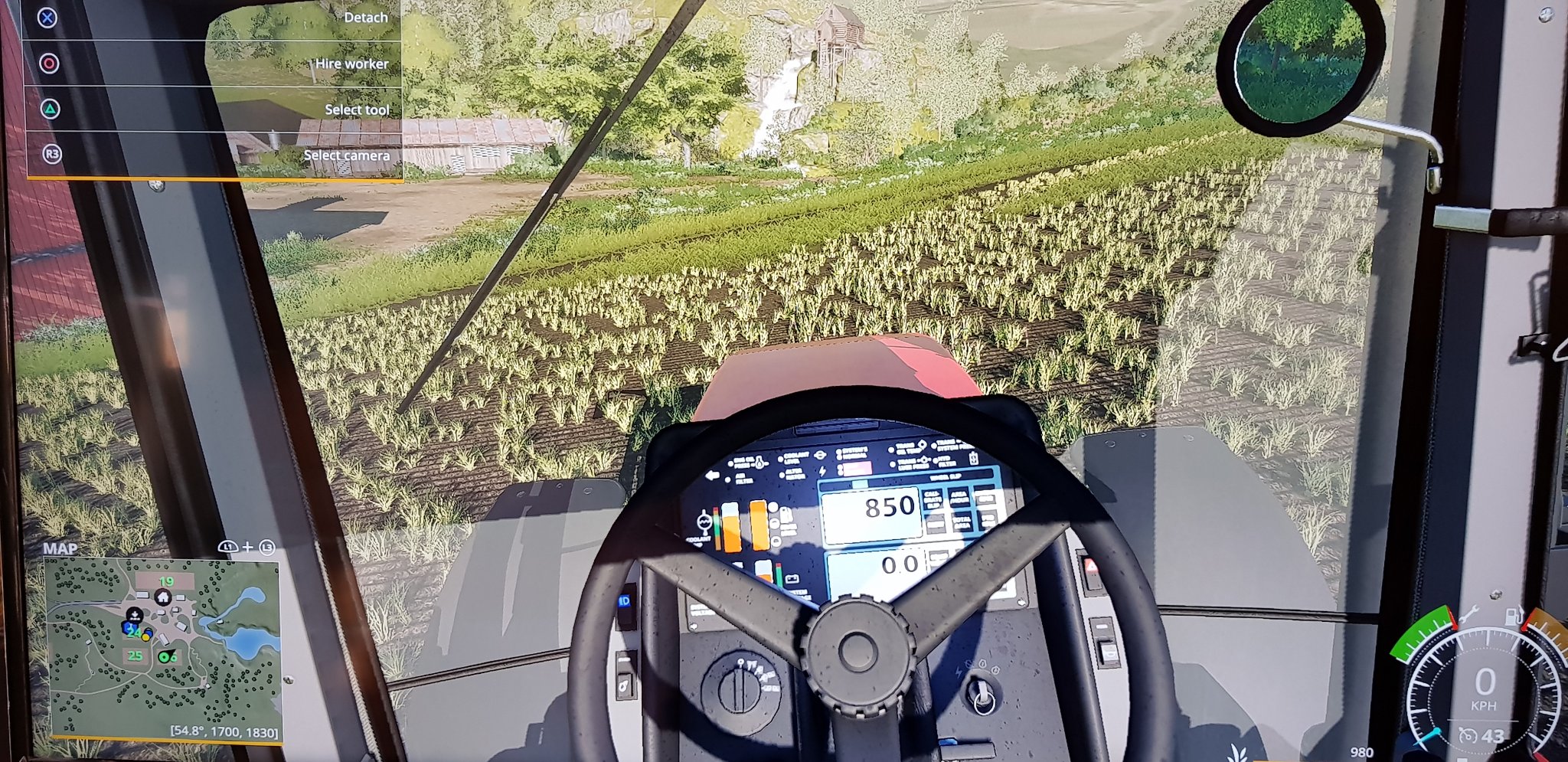 Having recently had the good fortune of driving a John Deere tractor it felt authentic and realistically replicated in the game, interiors of all tractors were top-notch including all the relevant health & safety signs, buttons, and unique interior designs similar to their real-life counterparts. The handling physics would be hard pressed to be improved upon by any other simulator game.
The most fun aspect of the title I had was actually whilst taking a break from harvesting and managing the livestock. Purchasing the creatures from the local animal dealer, changing the bedding (using the straw blower) and riding the horses to improve their energy and endurance levels, and then selling them on for profit I found more satisfying.
One area where Farming Simulator 19 does fail to shine is in the graphics department. Foilage looks dated, some ground textures do look pretty decent but generally speaking the title is lacklustre in this area, and whilst I can appreciate the engine has been improved on its predecessors, Farming Simulator 19 is not particularly easy on the eye, and has an average draw distance. Environmental tree renders would pop in and out occasionally (for example) and the sim does have juddering issues. But then for those of you who are returning to the game for it's latest update, the graphics and lack of polish will not be an issue as the gameplay provides an enjoyable experience.
Whilst farming sim 19 may not rules the lands in the visual department, it does offer a tranquil, relaxing environment to help get over this poor aspect of the sim. Navigating around as you use the map to explore the open world, purchasing goods from the dealers and travelling around your crops. The natural sounds of the in-game world provide a pretty surreal, calming experience that I found strangely charming.
I do applaud Giants software for the fantastic amount of licenses and depth. The level of brand support in the game is superb. A plethora of big-name tractors to choose from, all realistically designed and implemented (In regard to engine sounds/horns) providing an even more fulfilling experience. There is over 300 recreated pieces of equipment, tractors, trailers and more.
Farming simulator 19 won't be everyone's cup of tea, I'm not completely sold on the simulator but I can appreciate that for the niche market it will appeal to, they shall likely be over-joyed with just how authentic it is.
The online aspect of the game places six farmers on the same map who all work together to maintain the farm. Whilst for friends this can provide plenty of fun, randoms can quite easily jump in and out, trash your farm and face little punishment. The one neat option for fair players is you can deny players the chance to join your room, meaning any unjust players may get away with foul play once, but can then be banned. Admitingly my play on this mode was limited as the servers were not busy enough to get a full room before the game has gone live, but I didn't encounter any server issues such as lag.
Farming Simulator 19 may now be able to boast being the best ever farming simulator, but I think it will struggle to win over casuals. The title is a daunting, repetitive prospect to learn for industry newcomers and while it's clear to see that this is an upgrade on previous titles in the franchise, it still needs plenty of polish and improvements. Simulators always tend to divide opinion on how to score the review, yet I fully expect the market that matters first and foremost to the success of it (the returning agricultural, farming realists) will have a fab time with this.
Many thanks to Giants Software for the review code, Farming Simulator 19 is out now for Xbox One, Playstation 4, Nintendo Switch, PC & Mac.