Big and Budget
Huawei is one of the biggest manufacturers of electrical components in the world, with practically every device out there having some sort of chip or part made by Huawei. That being said, their own line of phones have never been well received by the general public. Most people write off Huawei as that 'other' brand of phone, the one you buy for cheap to replace your broken phone, or one you buy for a festival that was cheap enough you won't care if it gets lost. But is that a fair evaluation? Cheap doesn't always mean bad, Oneplus and the Nexus line have proved to us you can get a lot of phone for a cheaper price. The Honor line of phones from Huawei was made to create high quality phones with a price that didn't break the bank. Not everyone needs a £600 hyperphone, as you could get a phone for a fraction of the price that performs nearly as well.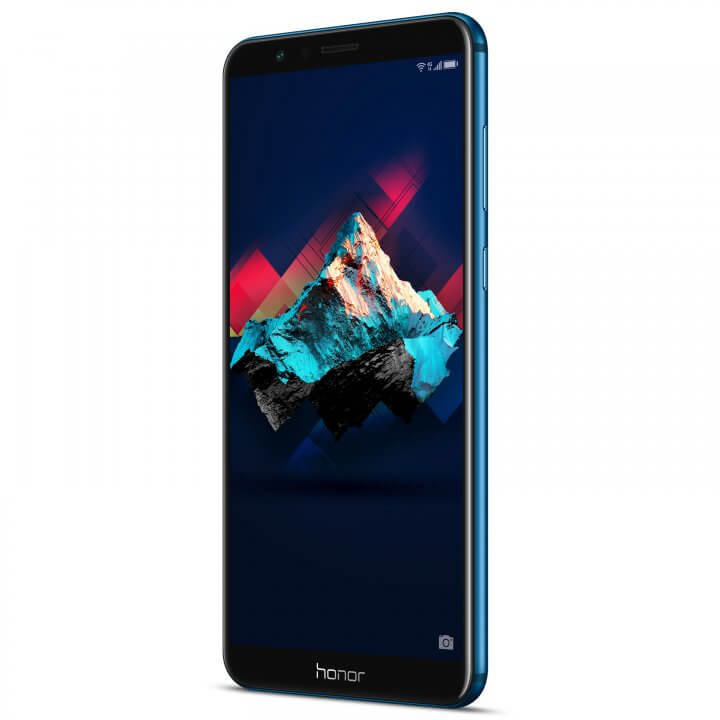 The Honor 7X is the latest release and it looks to prove that you can get a quality handset for an affordable price. Inside you get an Octo-core HiSilicon Kirin processor (4 cores @2.36Ghz, 4 @1.7Ghz) with 3GB/4GB of RAM and 32GB / 64GB internal memory expandable via micro SD, depending on what model you buy, a 16MP / 2MP dual camera setup with a front facing 8MP, and all the usual Wifi, Bluetooth, 4G, Fingerprint scanner, GPS and everything you'd expect from a modern phone. This makes it an attractive package, as it's a high spec phone from the get go, and this is even before we get into the finer details.
First Impressions
This phone is big, like really big. My daily driver is a Pixel XL which is only slightly smaller than the 7X yet I found the phone to feel unwieldy in the hand. The reason for this is that the 7X has moved onto the current phone trend of putting as much screen on the front of the phone with as little bezels as possible. The phone is about the same size as my Pixel XL, but crams a 5.93" display into the phone whereas my Pixel XL only has 5.5" display. It's nice to have an 'all screen' phone but the sheer size of the device just makes it awkward to use, reaching into the top corners is tough enough on large phones but feels even worse on this phone. What's more the buttons are all located in difficult places. The power / volume buttons are along the right hand side, but right at the top so you have to lower the phone in your hand to press them most of the time, the same goes for the finger print sensor on the back. It is something you could get use to eventually, but makes me question why they put these buttons in difficult places on such a large phone. The overall design is nothing that's going to turn heads, if anything it feels like the iPhone plus models, so far that it's even got the cameras sticking out at the back. It's a big smartphone slab that has a lot of screen. Speaking of screen…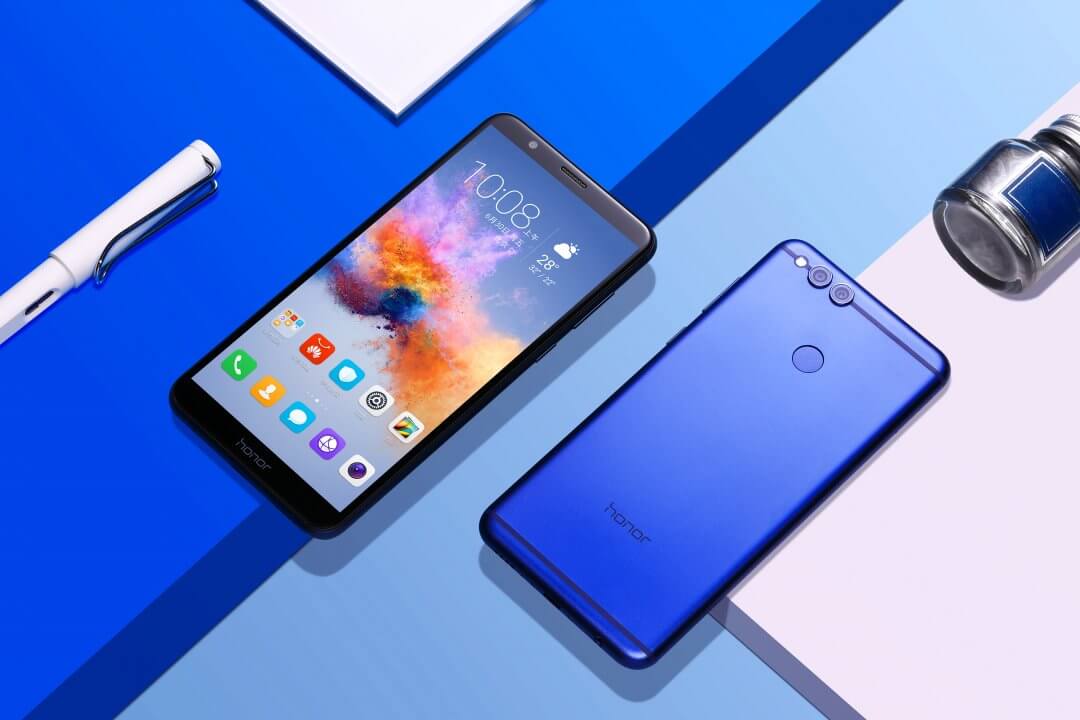 Display
As previously stated the phone has a 5.93" display at a 2K resolution with an aspect ratio of 18:9. This is very similar to the LG G6, but it's not all about numbers here. It takes up a lot of the phones body which is rare for cheaper mid-range phones that tend to slap any old screen on the device. The screen itself is bright, a lot brighter than I was expecting, but this amount of brightness comes with some compromises. Colours on the screen seemed washed out, no matter how much the paint explosion wallpapers tried to convince me, I just wasn't getting the colour vibrancy I've seen on other phones. The other minor issue you'll really come across are purely down to the odd 18:9 aspect ratios as certain apps and videos will leave black bars down the side. These weren't a massive problem as the screen is perfectly capable of looking at pictures and YouTube with no issues, and I can forgive it for the size of the display and the price of the phone.
Camera
The 7X uses a dual camera setup much like other high end phones on the market at the moment. The idea with most of these phones is to get better readings from what's been taken, or use it for clever camera tricks such as a wider field of view or different focusing options. Sadly the dual setup is only for the former as the secondary sensor is literally a 2MP sensor that will take optical readings and work with the main 16MP shooter to create better photos. The camera app itself hosts a lot of settings, especially for such a basic phone, you get the usual HDR and panoramic types of options, but also a load of 'smart' settings for taking pictures with hand gestures. All sounds fancy but how does the phone fare in real world testing?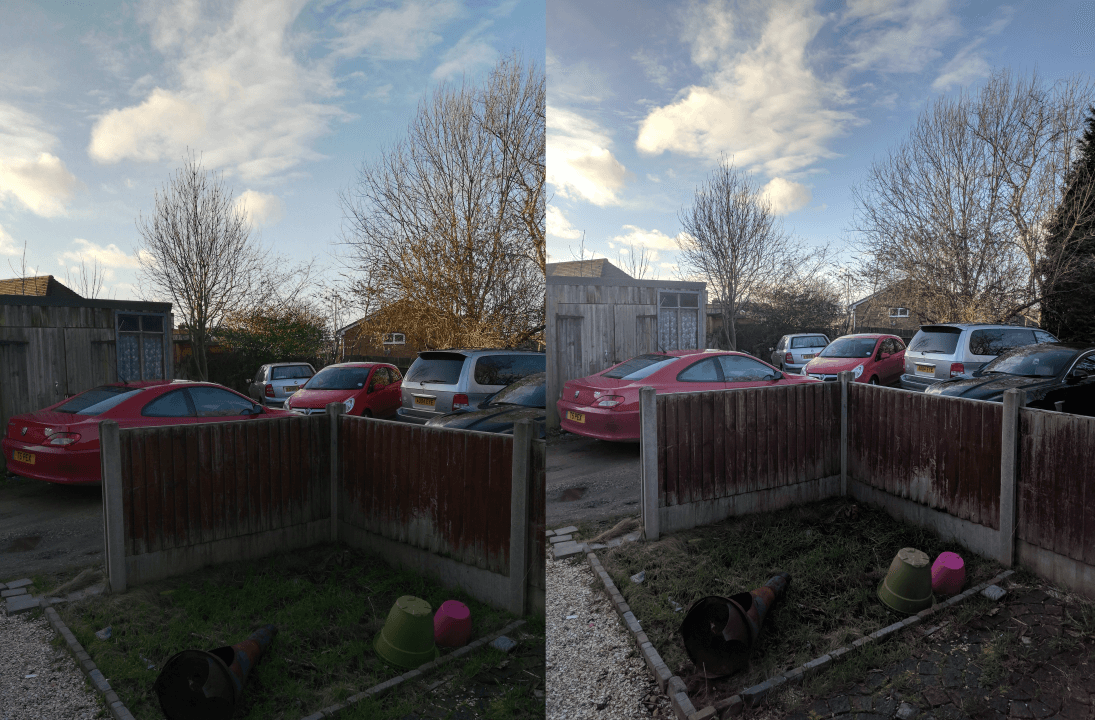 Honor 7X (left) Google Pixel XL (right)
Photos came out relatively well, and while it's nothing you're going to take that award winning picture with, they still take good quality pictures that might have some people questioning over if it really came from a 'budget' phone. However, there is a clear lack of brightness in the pictures as colours can seem a bit dimmed out in certain conditions. This only gets worse in low light conditions. Pictures come out totally fine and it's not as if they're bad, but there's a lot of noise in the post processing due to the lack of light. Quality is nowhere nearly as good as it would be outside and I could see this camera suffering heavy in dimly lit environments. The front facing camera is an 8MP shooter, as with all front facing cameras, it's ok, you can take a quick picture for snapchat or messenger, but don't expect anything amazing.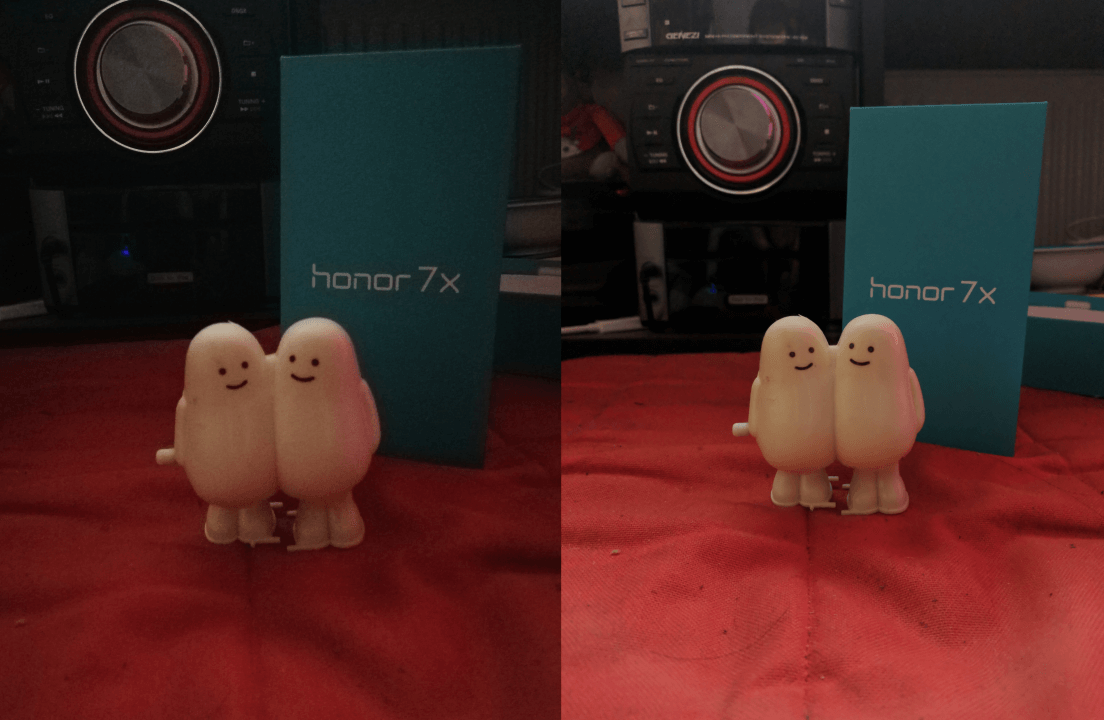 Honor 7X (left) Google Pixel XL (right)
Performance
The 7X holds a Hisilicon Octocore processor which is beastly for such a mid-range phone. In all my time of testing I had no hiccups or slowdowns or any issues with the hardware. The phone comes pre-installed with a lot of graphically intensive games, meaning it's more than capable of running games and demanding applications and probably wants to show off what it can do. In fact I noticed there were a fare few bloatware style on pre-installed on the phone, which was a bit annoying. Luckily they can all be uninstalled using the Honors launcher. The Honor launcher itself is not far off any other Android launcher. You've got the main screens and the app screen, if you've ever used any Android phone ever, you'll be in familiar territory. Honor haven't really added any bells and whistles to their skin, but personally I prefer it that way, the closer you stick to original Android, the better. The only alarming thing about the software is that it's on 7.0 Nougat out the box, which came out August 2016. I understand Oreo is only just getting to high end devices around now, but to be running software already over a year old is strange to me. Luckily the changes in Android aren't too noticeable and you'll get by fine with 7.0 for the time being.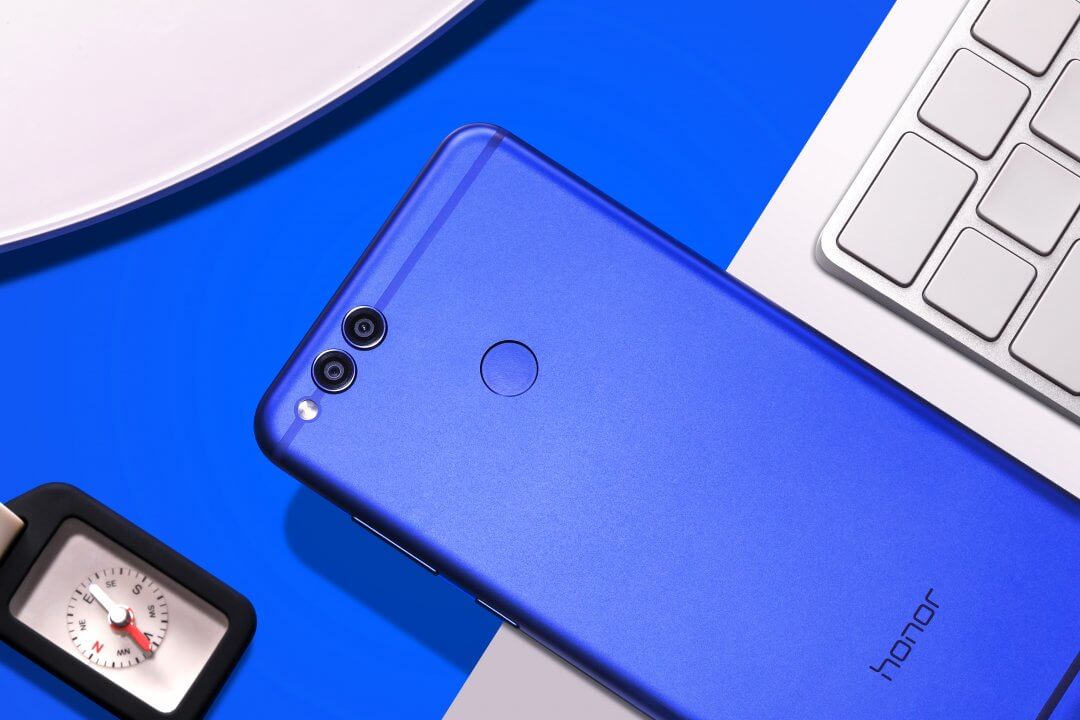 Battery Life
The 7X houses a non removable 3,350 mah battery, about standard for any large phone these days, and depending on how much you actually use the phone will depend on how good your battery life will be. A day to day user will probably get 2 days of life with light usage, possibly 3 if you hardly use it. However due to the day and age we live in you can probably expect around a day or so with some to spare. The large screen on the phone will no doubt take a lot of power to run and because of how we are so connected and on our phones all the time these days you probably will be charging it every night. This isn't a bad thing I find as if you want to save power then you'll go out your way to save power, and just like with other phones, power saving options are available. What's peculiar on this device though is it isn't using a USB type C port like most other newly released phones, but a micro USB port instead. Type C isn't exactly mainstream yet but I thought that a phone released so late into the year where everyone else used type C is a strange omission. What's more troubling is that micro USB port in the 7X doesn't support fast charge, so there's no fast option to get some quick juice before a night out. NFC is also missing from the phone and was probably due to cut productions costs. Just like Type C, NFC isn't the must have feature on any phone because of this the phone is unable to do some important features such as Android beam, and even more importantly Android pay.
Verdict
The Honor 7x is an difficult phone to judge. It definitely has issues such as the unwieldy size, awkward button placement and poor camera performance in low light. But this doesn't make the phone a bad phone, not at all. These issues are actually pretty minor compared to what the phone does overall and for its price. The 7X retails officially for around £269, but I've seen it for under £200 in some places. This price makes the phone a serious contender if you're looking for a mid-range phone that ticks all the boxes. Yes, some of these ticks will be a bit messy, but as I said – it's not bad, just not as good as some other devices, but these other devices are still £300+ and will only perform marginally better than what the 7X has to offer.
Pros
Competitively priced
High quality metallic build & finish
Large bright screen
Snappy performance
Cons
A bit large for some
Poor camera performance in low light
Missing USB Type C & NFC
If you're in the market for a mid-range phone then the 7X is definitely worth a look at it. I can't think of another phone on the market that gets you this much phone for the price, brand new that is. Second hand flagship phones from 2-3 years ago are falling within a similar price range such as the Galaxy S6, Xperia Z5, HTC M10 or even a Nexus 6P if you're willing to deal with the hassles of second hand goods. All that said the 7X is a quality phone that should be worth at least a look at if you need something good, and something well priced.