Vroom, Vroom, Table Top Gear!!
Is Playrise Digital's Table Top Racing world tour, in podium position, or back of the grid? I hear you all ask. Well, somewhere in-between, to be frank.
Visually for a budget game it looks top of its market, looking the part, its slick, easy on the eye, no framerate/juddering issues experienced, and you can tell the developers have poured their hearts into this bite-sized racing title. It comes offering numerous modes including a championship mode, online, special events and the garage.
Championship mode gives players the opportunity to race on numerous circuits, competing against up-to 6 AI cars, across 12 championships, with different challenges awaiting each championship trial. To pass each challenge, bronze stars must be earnt on every trial, the higher you rank, the more stars rewarded, resulting in increased prize earnings/experience.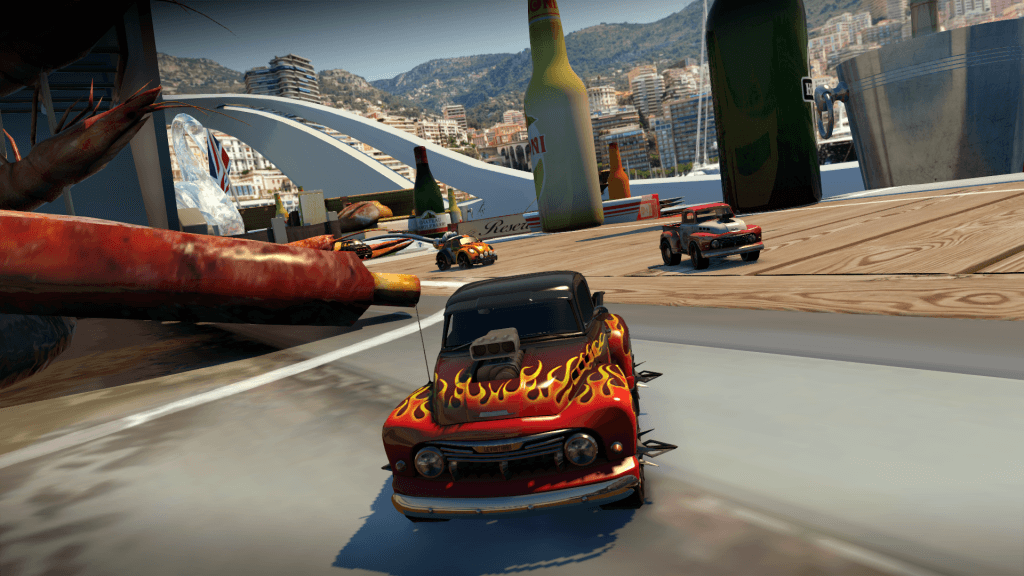 Beginning with enough coins (TTR's currency) to afford one of two vehicles from a set of four. These are the "Amateur" class, which are perfectly capable, to begin with but, like all vehicles in TTR, they can be upgraded in various ways. Small differences in performance between them mean your choice will be made mostly on whichever you prefer the look of, and each one can be given one of four pre-set paint jobs, for a price. This is unfortunate as the joy of a game like Micro Machines was in playing with different vehicle types, like a 4×4 or Formula 1 car. The difference between these classes is noticeable; once you've spent a while working through the Amateur class, the jump to Street Racers is appreciated, but you won't be keen to drop back down as those cars now seem to run at a snail's pace, so it's best to win all three stars in each event as you go.
Challenges are across 32 unique circuits, ranging from art inspired tracks, to a rather spontaneously hilarious, Yo Shushi course. Each track is small and compact in size, navigating around bends, taking short cuts, avoiding obstacles, and using the power up's/speed boosts as you compete on the course. It's quite clear to me that the game took some inspiration from classic favourites including Mario Kart, and Sega All Star Racing. The power items and speed boosts didn't seem to offer much of an advantage due to the short length of each track. (If you're lagging well behind, it's difficult to make any ground up by the time the event has finished).
Some championships also have different requirements to clear the track, such as
Time trial – where its mandatory to complete said number of laps in the time limit.
Hot Lap Race – Another event against the clock, 90 seconds to blast out your quickest time, the timings of boosts can be crucial.
Combat Mode – An event where all items are destructive/power ups, designed to help the racer brutally bully his way to success if necessary.
Pure Race Mode – No Power-ups, No Speed Boosts, just driving how it's intended to be.
Special Events offer players the chance to earn extra rewards based on 3 different categories. Cult classics, Street Racers and lastly Supercar special events. Each category is a different level of difficulty and brings with it different circuits and challenges. To succeed in special event trials, racers need to be rather naughty, thinking out of the box. (Yes, you may speed through the red light, I won't fine you!!)
Online mode gives the game great replay value, as you can compete against 8 players, and matchmaking takes place in the popular online lobby style system. (I could not partake in online at the time of writing the review, as I was sadly unable to find any rival racers to matchmake with).
Garage mode is pretty self-explanatory, purchase up to 16 cars and different styles of vehicles, custom the car and away you go, one happy chappy.
The User Interface is easy to manage, and the soundtrack has a touch of the old sony classic wipeout, techno, club banger style to it.
---
Table Top Racing World Tour is now available on the Xbox One.
A Xbox One review code was provided by Playrise Digital