JUMP, SLASH AND RATTLE TO THE RESCUE!
It's funny to think that even in 2020 the humble 2D platformer is not only still prominent but the genre even fires out the odd modern classic from time to time. From Super Meat Boy to Shovel Knight it goes to show that sometimes taking a step back can create a great experience. But what also goes hand in hand with the two titles I just mentioned is their difficulty and what I have brought to you here may very well be their illegitimate love child! Created by Uzuka games and published by video game juggernauts Konami we have Skelattack, a wonderfully cartoonish 2D side scroller and HEAVENS TO MURGATROYD DOES THIS ONE TEST YOUR PATIENCE! I MEAN C'MON THINK ABOUT MY SANITY GODAMMIT! SERIOUSLY! *ahem* it certainly packs a wallop in its difficulty level and along with some striking visuals, the gleeful soundtrack as well as some outlandish characters we have a decent little effort on our hands here, despite some design flaws.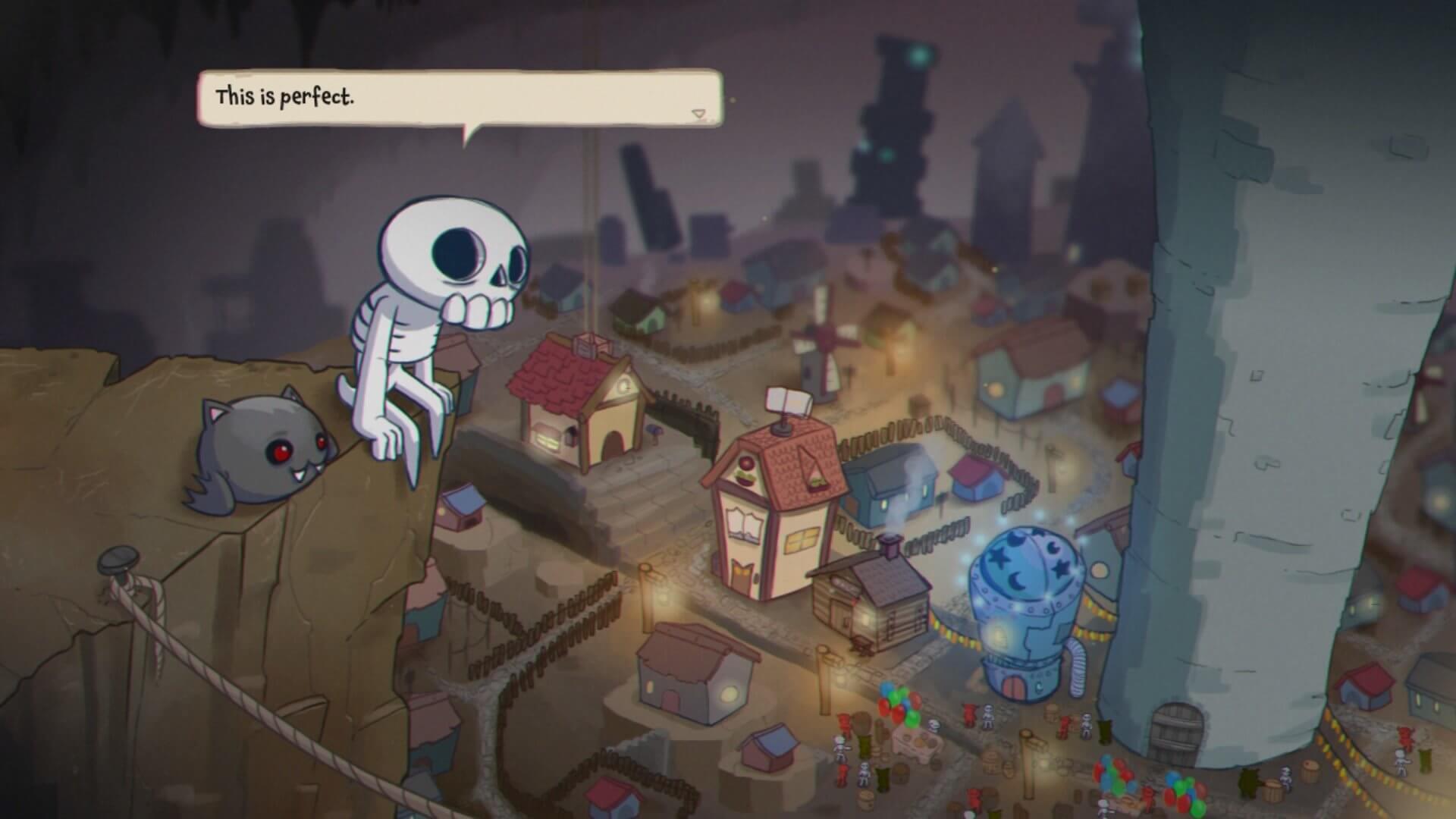 Skelattack takes us to the land of Aftervale, a place where the dead can live out the afterlife days in peace and enjoy a spot of jazz. Here we meet Skully, your run of the mill, easy-going living skeleton and his bestest bud Imber, a wise-cracking bat. Every skeleton in Aftervale must go through a rite of passage at some point called a Remembrance Day, a day where the undead learn who they were before their Demise. However, the day of Skully's is interrupted by an unexpected invasion by those BLOODY HUMANS! Kidnapping Village Elder Elsegon and looking to steal the magic that makes the undead exist in the first place, leaving it to the dynamic duo of Skully and Imbar to save the day. To me, this premise is simple and whimsical, taking me back to the glory days of Rare Ware, a good guy, a bad guy, and a purpose are all that's needed sometimes and this works for Skelattack in spades.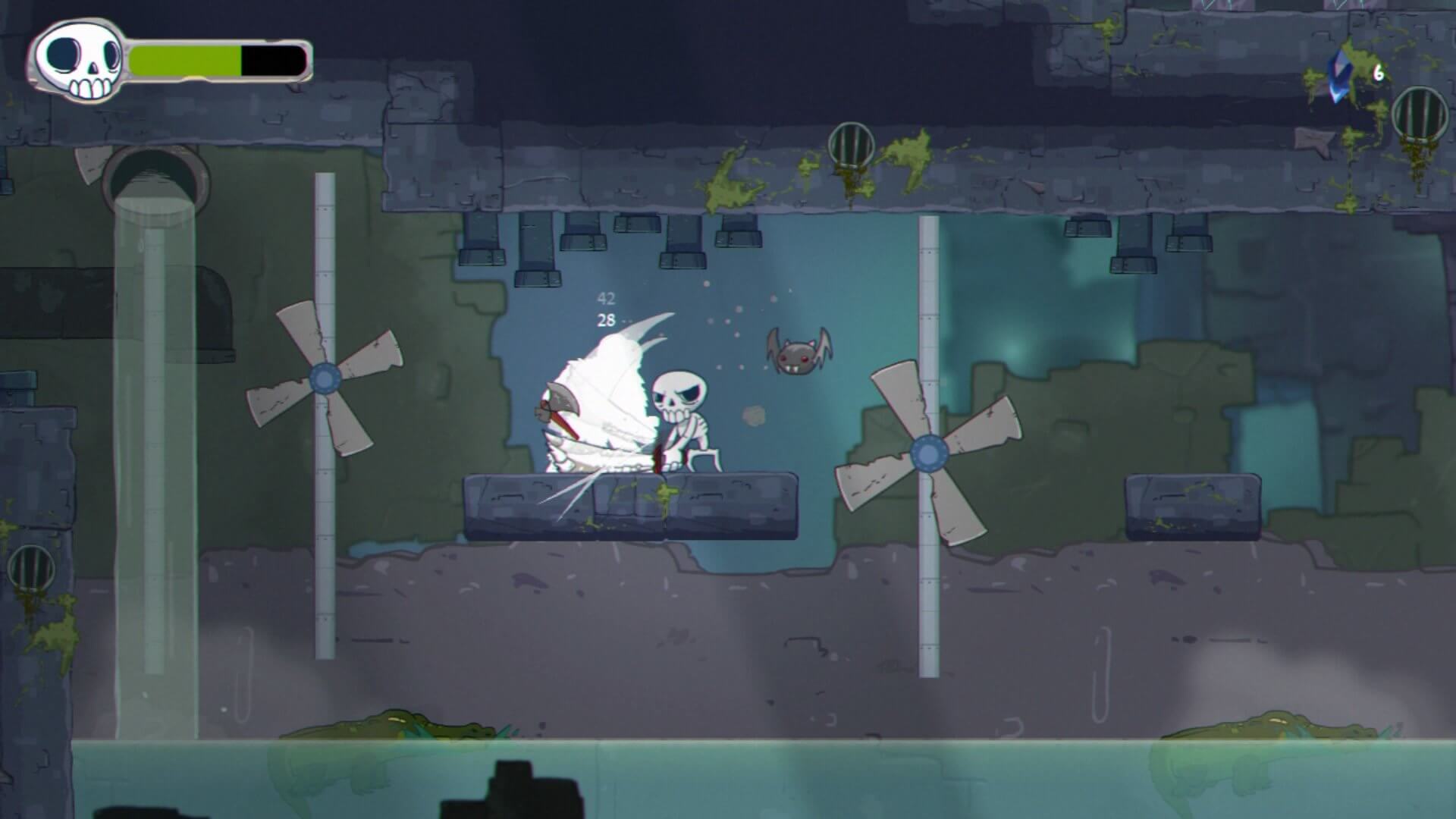 Skelattack's gameplay is influenced by the golden gaming years of the 1990's, where you win by pressing right, timing your jumps, and mashing a button to do away with the bad guys! But what gives Skelattack its vigor is its the bone-crunching difficulty. Insta-kills of everywhere and jump are unforgiving should your judgment be off however you have an infinite amount of attempts to right your wrongs but in a game that is all about trial and error Skelattack certainly punishes you for it, you die you lose some of the blue crystals used for purchasing healing items and upgrades but you have the chance to reclaim them at the spot you perished, die again before then and they're gone! Dark Souls style! and it's this satisfying amount of difficulty that fills you with determination to overcome making for some seriously rewarding gameplay especially when you finally triumph over the dungeon bosses which will send your death count sky rocketing if you're not careful enough.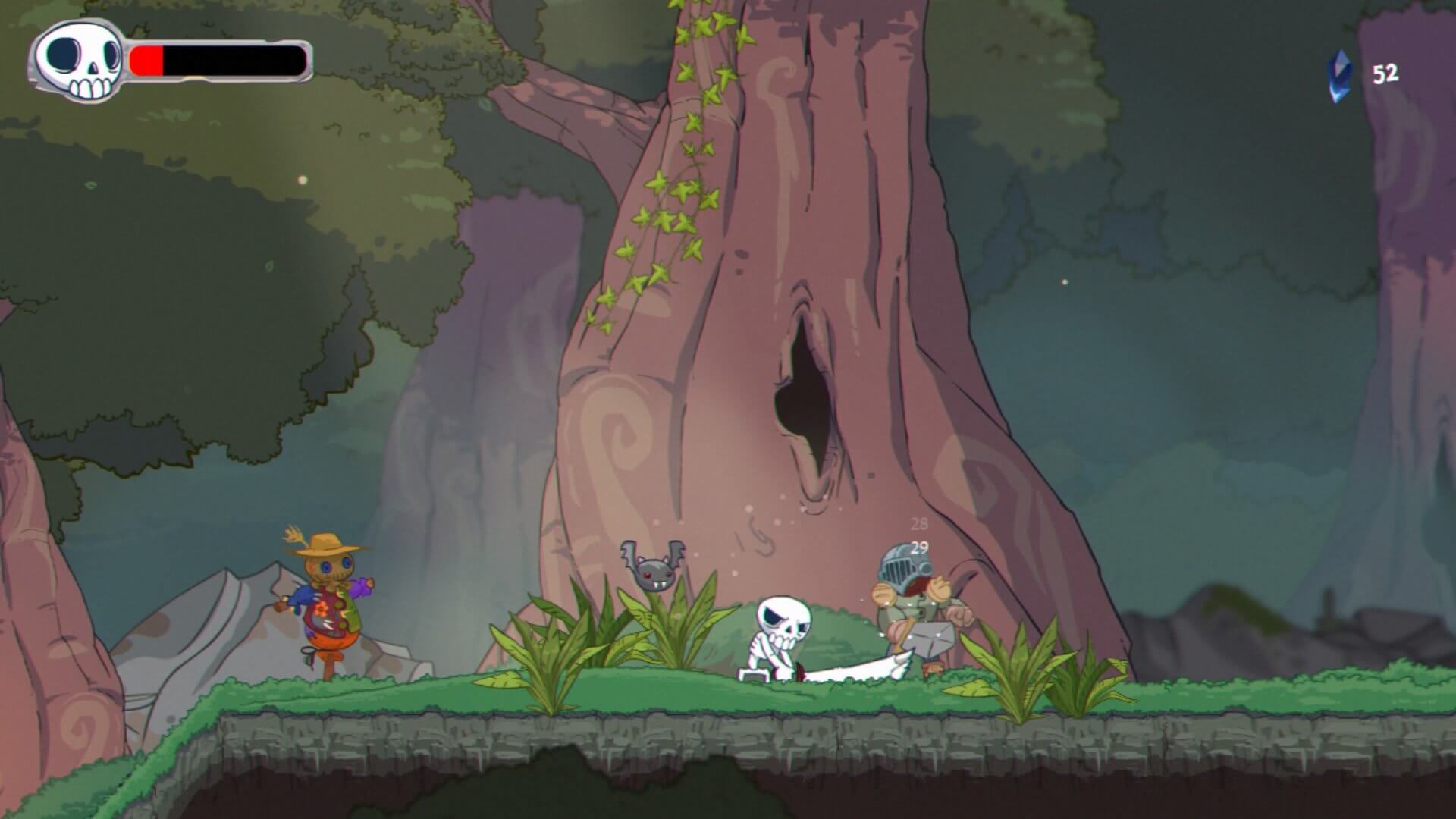 However, some design flaws let the whole experience down at times such as questionable head-scratching hit detection and uninspired button mash combat in the opening parts of the game before the upgrades bring more variety and tactics to the field. On your travels, you'll also find new and troubling ways to cross terrain, be it using your brain to find ways around pitfalls and spikes or using the aerial skills of your companion Imber the light the way reminiscent of Banjo Kazooie and the like and trials such as recovering an aging skeleton's missing body and retrieving food for the Rat King of the sewers only adds to the whimsy.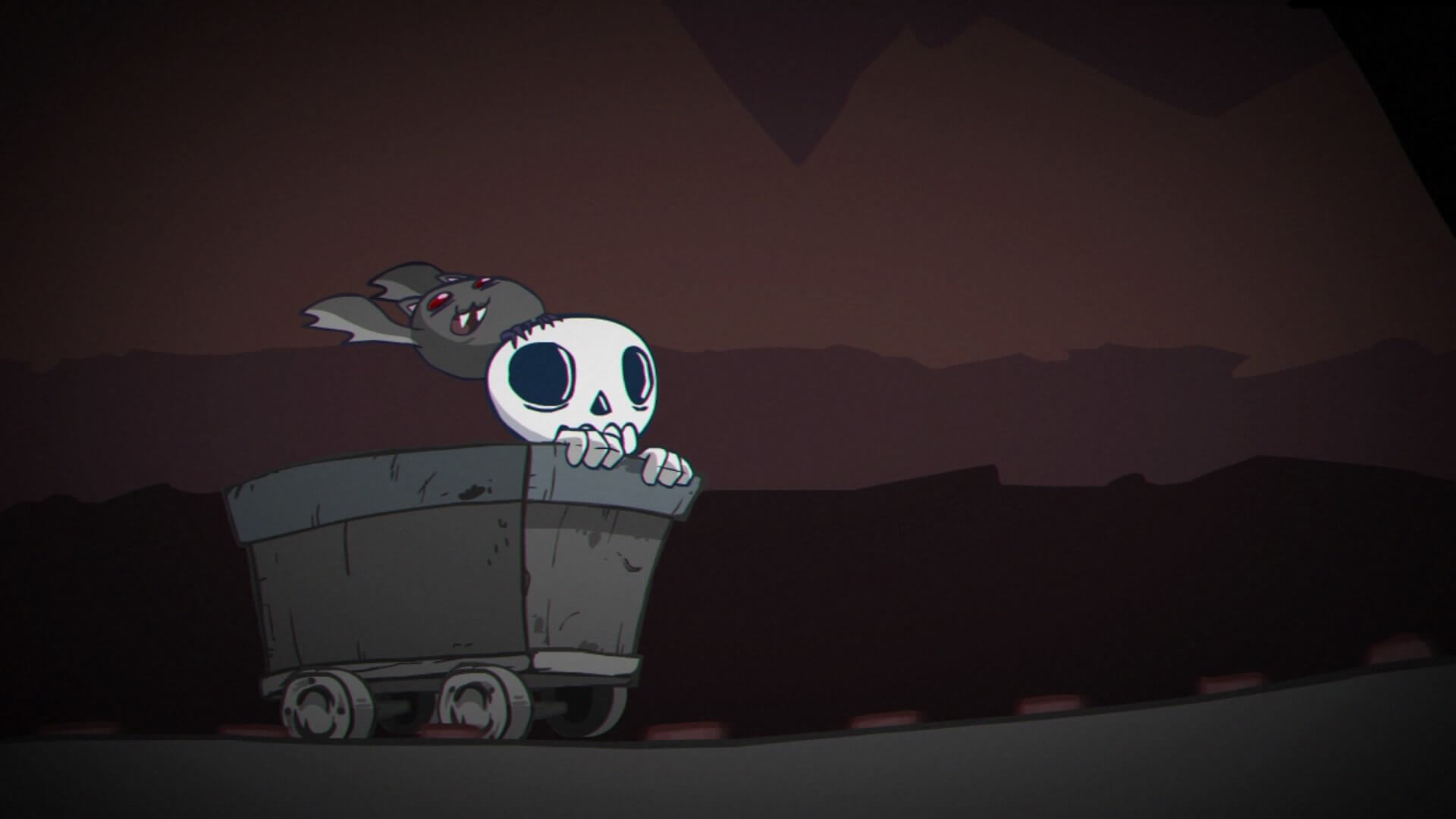 Skelattack also features some absolutely crisp and overall striking visuals overflowing with colour, beautifully fluid motion and upbeat scores of music that is as jazzy and vibrant as it is playful and truly fits in spectacularly with the games art style. You'll eventually find some colourful and memorable NPC's which only begs the question as to why our heroes look so plain and forgettable? Unfortunate, but it's made up in the way of personality and puns.
Skelattack is available now on PS4, Nintendo Switch, Xbox One and PC
Game code supplied by Konami