Alienware 13 R3 i7-7700HQ Review
The January sales are here, and many of you will be hoping to grab a bargain, perhaps for some, one of those is a brand spankingly awesome shiny laptop.
The folk over at Dell, sent GameHype the latest offering in the 13 R3 range.
Alienware has been known for superb gaming rigs, but one criticism they've had throughout the many years of gaming glory they've given us is the size and weight of each laptop.
In a competitive market where rival companies are constantly looking to inspire audiences with innovating machines, Alienware was at risk of perhaps falling behind the times, no touchscreen, no 4k resolution, clunky build, thus making laptops more for home use then on the go.
Has Dell strived to lead the market? Or will the R3 7700HQ fall short?
Let's find out!!
Design & Pricing
Portable gaming on the go
Light
High Quality Finish
RRP £1040 + (Entry Model)
1440p Screen Resolution
There's little to criticise in design, if we were judging this in a catwalk contest, no doubt the 13 R3 would win, with a stunning design, a slim, slick chassis, followed up by impressive soft-touch rubberized key's and touchpad. The laptop is compact and great for on the go gaming. The light feel makes this easy to carry, and even open with one hand.
The quality in colour is mesmerizing, the touch panel is a top end build and the high screen resolutions help the OLED screen look of the highest standard.
The entry price of roughly £1050, makes this a luxury purchase, much like it's predecessors, the specs, build quality, and numerous features to make it good value. Ports included being as follows
1 Power/DC-in Jack
1 RJ-45 Killer Networks e2400 Gigabit Ethernet Port
1 SuperSpeed USB 3.0 Type-A Port
1 SuperSpeed USB 3.0 Type-A Port with PowerShare technology
1 SuperSpeed USB 3.0 Type-C Port
1 Thunderbolt™ 3 Port (USB Type-C™ with support for SuperSpeed USB 10Gbps, 40Gbps Thunderbolt, and DisplayPort)
1 Alienware Graphics Amplifier Port
1 HDMI 2.0 Output
1 Mini-Display Port 1.2 (certified) Output
1 Audio Out 1/8″ Ports (Compatible with inline mic headset)
1 Headphone 1/8″ Port (retaskable for Microphone/Line-In analog audio input)
Performance
Intel® Core™ i7-7700HQ Processor
Worlds first VR Gaming Compatible Laptop
NVIDIA® GeForce® GTX 1060 with 6GB GDDR5
16GB DDR4 at 2400MHz
1TB M.2 SSD (Boot) + 1TB M.2 SSD(Storage)
The spec's speak for themselves, if gaming at a high standard is what you're after, the 13 R3 can meet those needs. Loading times/file transfers are quick, and the system's response rates are impressive.
Quality movies, games trailers etc look glorious, the details are very sharp with minor blemishes in special effects really standing out.
The performance of the graphics card took a hit when playing Homefront Revolution above 1080p, at the full 1440p screen settings, with the fans becoming somewhat loud, with some overheating, the framerates during gameplay were also lower than the norm hovering at just under 20fp. Whack on the ultra settings, in glorious 1080p and it will handle whatever you throw at it, in 60fps at pretty much all times.
AlienFusion: The new Always Ready Mode puts your system in a state in between sleep and awake, allowing core programs to run in the background while the machine runs quietly and in a lower power mode.
AlienAdrenaline: Featuring customizable game and application options, a system performance optimizer and a performance monitoring tool, AlienAdrenaline provides users all the tools they need to keep one step ahead of the competition.
Thermal Controls: Change settings and monitor internal temperatures and speeds of certain fans within your PC using the Active Thermals module.
OC Controls: Take control of overclocking levels for your memory and CPU with OC controls. Monitor memory activity levels, change settings on the fly, and turn on/off auto start in one convenient place. With customer OC, you can create your own OC mode by making choices in your settings located in the "Customer Menu" section of the BIOS OC screen.
Battery life averaged out at near 4.5hours, with the screen dimmed, on settings of high brightness the lifespan was nearer 2/3hours.
Sound
Realtek Audio, Built In Speakers
Headphone/Microphone Jacks
Alienware Sound Centre Panel
The sound is crisp and capable of filling a room with its loud bass quality and adjustable settings via Alienware sound centre. It's where the user can customise the numerous sound options. Virtual surround, treble enhancer, bass boost, and even voice clarity. The HD Audio Recorder 2 is a neat addition, and the sound does not disappoint.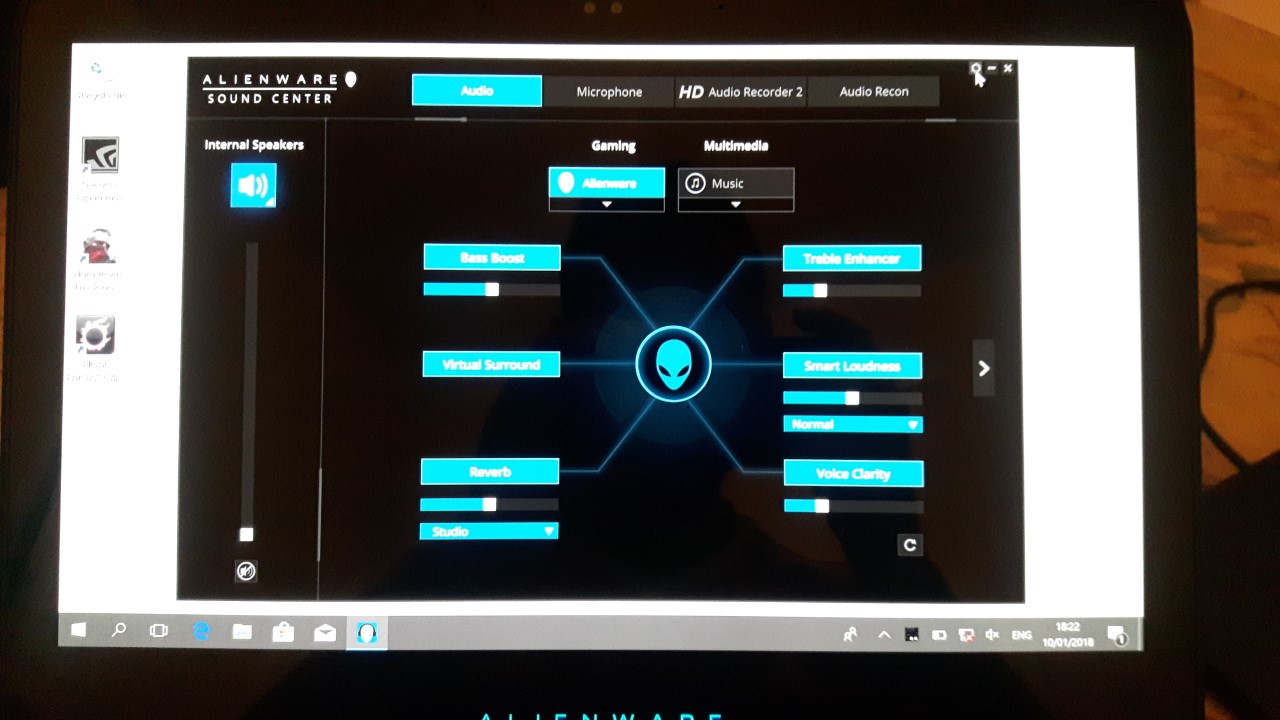 Display
Rich OLED Quality
2560×1440 OLED Anti-Glare
Battery: 76 Whrs Lithuim-Ion Battery
13" Touch Screen
OLED is the next-gen technology in screen quality. It's been on the market for a while and has a premium design with high costs. The one factor which makes the OLED's standout is the superb blacks and whites, and far richer contrasts then rival counterpart's with lesser resolutions. Throw in a touch screen monitor, and you're looking at one superb, elite piece of kit.
Dell have outdone themselves yet again, as they continue to innovate, with a very beautiful piece of tech.