The racing guru's over at Milestone Italy are back with more off-road MotorCycling championship racing madness, as the official Federation International MotorCycling game for the 2017/2018 season arrives. Read on, as I accelerate, drift, and jump my way through Monster Energy Supercross.
Being thrown in at the deep end from the get-go, the energetic Angel Stadium 2 is a great showcase of the games neat graphics. Fueled by the Unreal Engine, I gasped at how nice the stadium, lighting, bikes, and track props have been designed. Despite how impressed I was with the appearance of Monster Energy SuperCross, I was somewhat lacking in impressive handling skills! A grid finish of 22md in my first event was hardly the world-beating, supercross conquering start I'd hoped for, but my thirst for a first race win remained!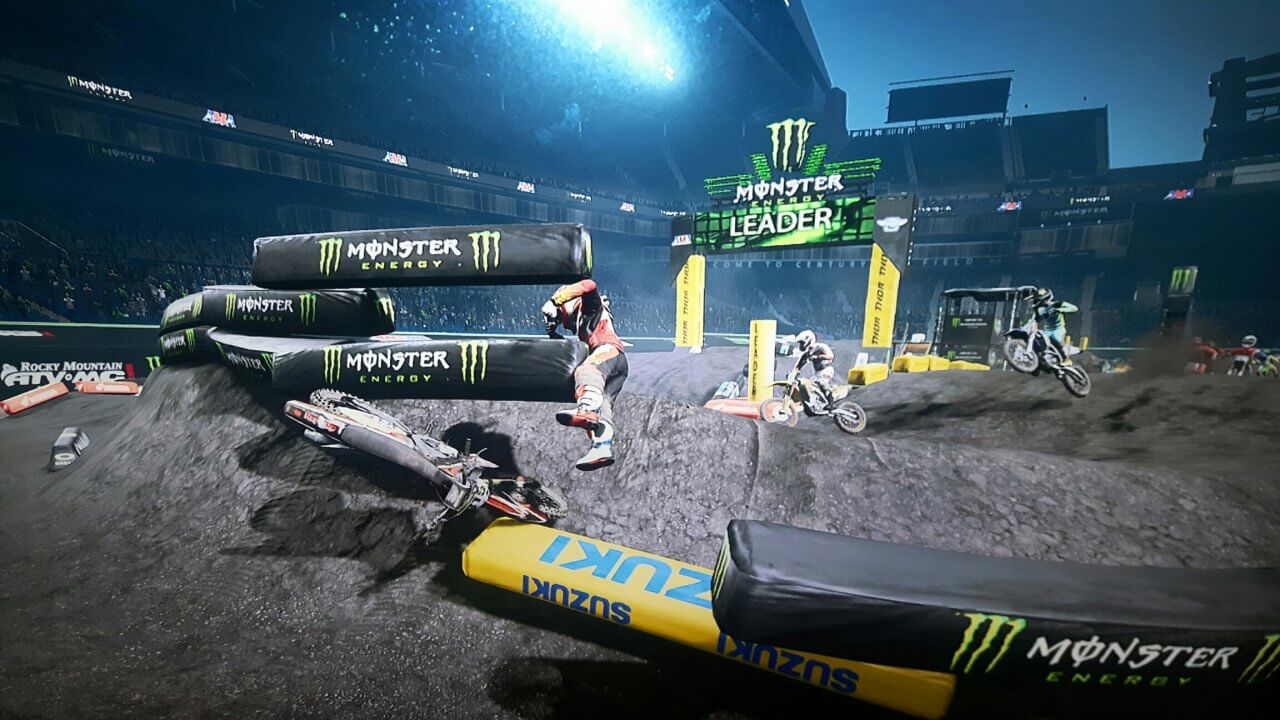 As I jumped, skidded, and sped through the first event, I couldn't help but notice how well licensed the game is. From Cooper Tires, Oakley, and Thor to leading motorsport companies such as Honda, Suzuki and Yamaha it had a big race feel to it. A rapturous roar of encouragement from crowds during events, and lifelike stage pyrotechnics, special effects help bring a buzz to race days.
My first impressions were that this game is oozing quality. On the menu screen after the opening event, I was greeted with the option to have a title, I suitably went for the "Useless" Title, I was debating between that and "Rusty", both would have been quite fitting. More of these comical choices are available as you progress.
Speaking of the levelling system. A prestige system is representative of the dedication given to the game, the more you play, the higher your prestige. The levelling up system is boosted by completion of challenging manoeuvres, race mode participation, and interestingly, by using customised online tracks and gaining votes.
The bikes come in three different classes, 450, 250 east and 250 west.
In this review I'm mainly focusing on career mode, other modes are in abundance here, including Championship, Online, Time Attack, Single Event, and Track editor give the game a huge amount of replay value.
Starting up career mode, my champion biker was created, and then after much umming and arr'in, Suzuki had the honor of Bettsy racing for them. I went forth on my journey to the pinnacle of the world championships, at least in my mind…
Straight away an informative menu appears with social feed updates that include fan reaction, current championship trends, objectives of sponsors and career progress. Customisation to change appearance and bike are unlockable features here using the credits earned throughout progression and game playthroughs. Rich in choice would be one way of describing the custom options on display. Pretty much every aspect of the bike can be tinkered with or altered in colour. Clutch cover, Rear Sprocket, Nipples, foot pegs and many more. I felt like hours alone could be lost in the making of your dream bike a reality!
What I discovered while learning the hard way, was that speeding around the circuit like an adrenaline-fueled, high-speed junkie is not the way to play this game. Prioritise landing the jumps, and whoops, ease up on the throttle when approaching the corners/fellow bikers, while drifting around the lifelike mud puddles that form around the tracks are what win you races. A fast bike is useful for the start race madness out of the block and race straights, but a bike that handles like a dream will be far more consistent over the season.
For Motorcycling enthusiasts out there, bring your mechanical brain-boxes to race day, because in the pre-start menu the set-up can be adjusted to improve performance. Spring stiffness, gear ratio, compression damping, rebound damping and bike under/oversteer, not being too clued up on this aspect of the sport I wisely left my bike alone, the defaults will do just fine.
Race weekend consists of the full supercross experience, One shot for gamers wanting to skip straight into the main race. Semi-pro where a number of qualifying positions are required to be met to achieve access to the grand event.  Or you can try "the real thing", which includes a further 3 heat sessions.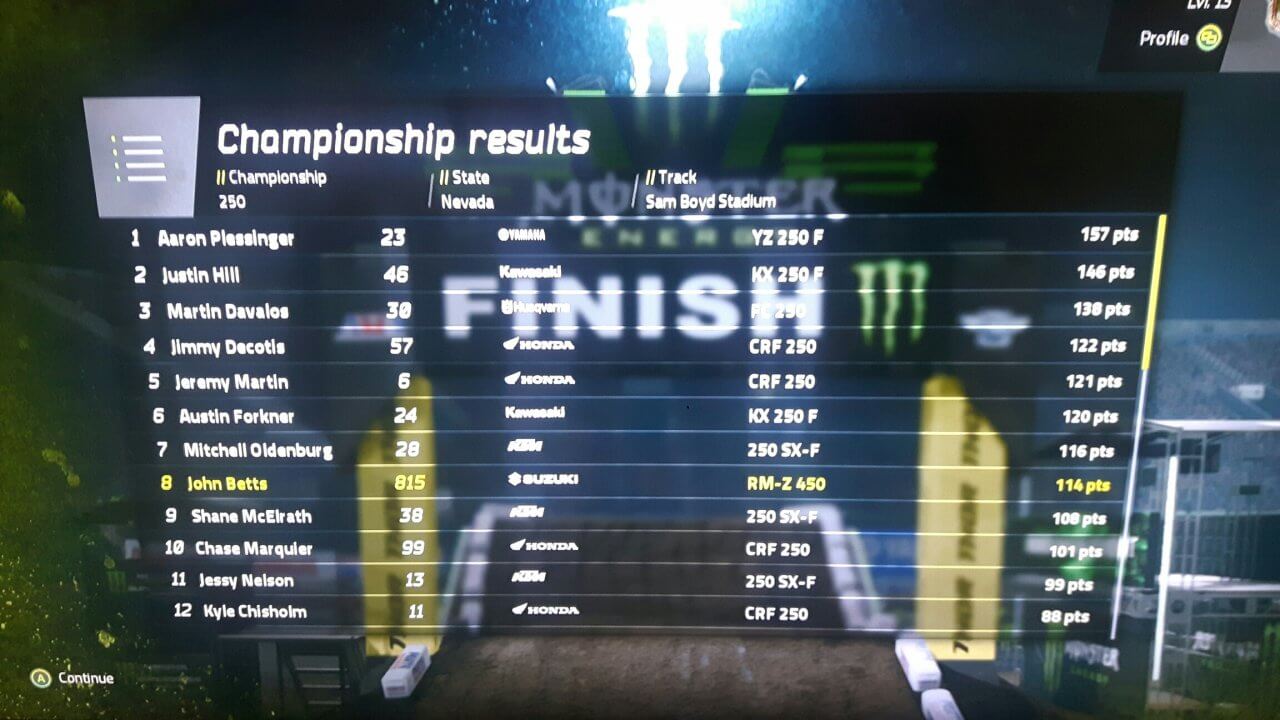 Sadly my first career season did not end with glory. A solid 8th position was a welcome finish to my debut season, 1 win and 2 podium finishes, had me and my legion of fans thrilled with what was to come.
In the commentary booth, Ralph Sheheen offers some analysis and race hype, attempting to set the tone during pre-race and results, though perhaps a little brief if I was to be critical. More satisfying aspects of the game are the smaller details, cranking up the multi-cylinder bike engine when revving/changing gears give the exhaust that authentic crisp sound and feel, even dirt is aggressively hurled off bike wheels when accelerating around corners. Another slick design inclusion is that of bikers just twitching their wrists on the handlebars at the race start. Small but sweet inclusions that impressed me.
The bikes handle reasonably well in the mud, some sections of the circuits are more avoidable, where mud is like sticky and water drenched, the bikes have obvious slowdown. The collision physics appear well executed, impact with rival bikers, or circuit prompts will have a knock-on effect. In more heavy hitting cases the likelihood being you'll fall off the bike and suffer a few seconds in time, all adding to what is a high drama, exciting, and intense race.
Every circuit feels different, jumps range from low to high, and some circuits have more challenging jumps and bends than others. Resulting in the need to have a different approach in how you tackle what's in front of you on each circuit. The game requires patience. It's not a pickup and play racing game that'll be mastered overnight.
Unfortunately, Monster Energy Supercross is not a perfect game. Some slight gripes I had with the in-game performance were some sluggish loading times, and occasional slowdown/lag during races that resulted in the screen freezing momentarily before resuming the race. The slowdown in performance appeared to occur when a large group of bikers are slugging it out for positions. These niggling issues did not hinder the experience for me. I appreciate for some it could frustrate.
Playbacks are a noteworthy inclusion, some will argue controversial. Have a fall that's a world title defining moment? Not to worry, the playback will allow you to rewind game time to retry and land jumps, or successfully steer around bends.
I can't say I'm a fan of the feature, it feels like cheating the game and deflects away from the point of practising and striving to cut out mistakes when there's an option to pretty much hold your hand round every event.
Onto the track editor and this gives fans the opportunity to create, share and vote on other track creations for in-game rewards. Giving players a beefy selection in their creative arsenal, I felt if correctly implemented it's a superb feature that will really cater to the online communities that thrive off these options. I wasn't sure whether this would be the bog standard editor that claims to be something far greater then what it actually is for a cheap PR gimmick.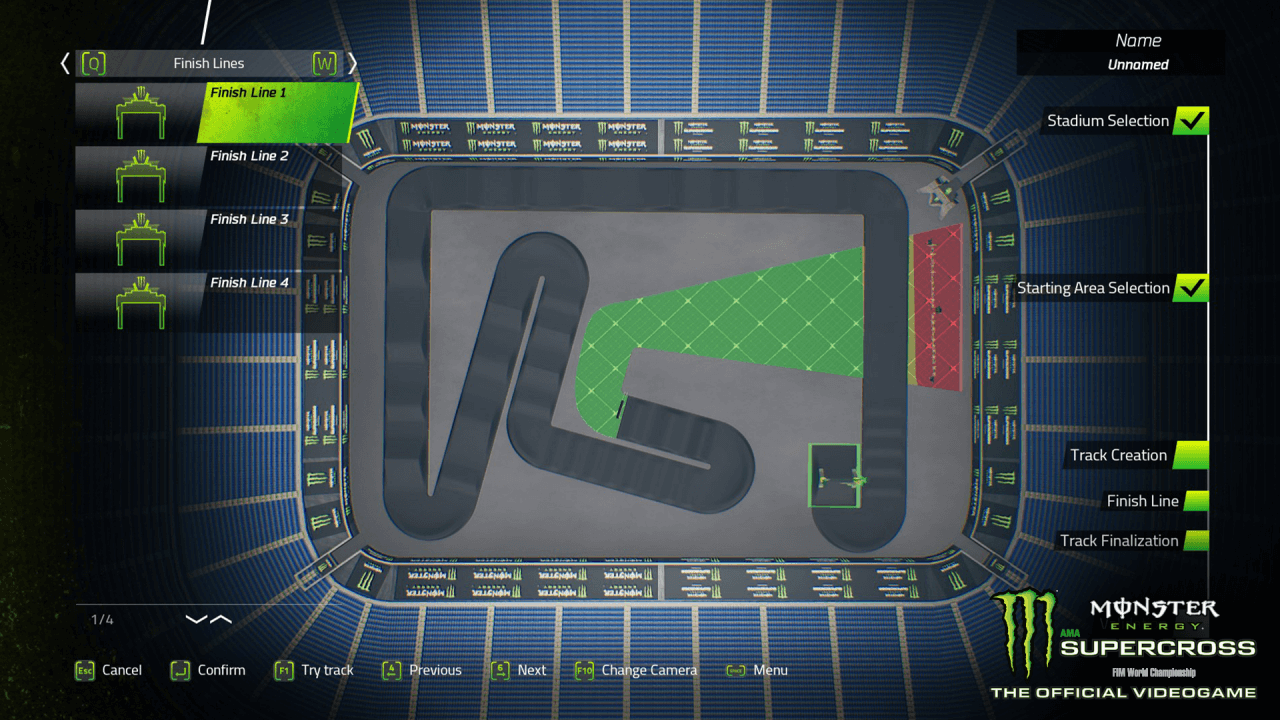 Milestone deserves plenty of plaudits for this awesome bad boy. The track editor is perhaps the best piece of kit I've come across in a customisable racing mode. It's rich in choice and offers endless creative opportunities that should give the player a lot of exhilaration. 8 Stadiums, Indoor, outdoor, Large, small, triangle, rectangle (in shape). Start, finish lines are positioned where desired, and the size of curves, jumps, bridges, straights, whoops are all editable and can be played around with here.
It's not a particularly complicated/long-winded process either. If you're unsure the track you've created is an epic Einstein creation, the mode lets you try it out, then re-edit it until the right adjustments have been made. When you've finished creating your glorious track, whack it online, test drive it in single player, vote and share, happy days!
Lastly, the online multiplayer pits 12 gamers up against each other on custom and official tracks. Create a match, check out leaderboards, or perhaps hop straight in by the quick match choice. Filters are available for those that wish to play by their rules such as a quick jump in and play single event, or a lengthier online championship offering.
Sadly at the writing of this review, my attempts to play online were non-existent, lobbies lacking in activity, for me to fairly score the online aspect of the game, the potential on the base of it all, appears to be fun and positive.
Monster Energy Supercross is out now in stores for PlayStation 4, Xbox One, PC and Nintendo Switch.