When I think of mud-pits, and mud-tracks, I could think of some rather fun and let's say inspired ways of enjoying said things. Sadly, MudRunner is not one of them.
Before I go into more detail about the game itself, if handling a truck/trailer with dodgy camera angles, a pointless purpose to the game that drives your patience (and to to the heavens) and graphics that leave much to be desired, then I'd argue you've read enough to decide this game isn't for you. Otherwise, read on my fellow mud-truck fans.
Developed by Saber Interactive and published by focus home interactive, this is the follow-up edition of the pc title SpinTires. Upon firing the game up, a tutorial loads and assists the player with the basics of learning the mechanics that make everything click, and help the truck reach its destination, and my god, you need all the help you can get!
The aim of Mudrunner is to successfully navigate up to 19 all-terrain vehicles to the objectives. Facing extreme conditions, and challenging scenarios, the game is a test of mental grit and knit, as well as driving skills capable to complete the tasks at hand.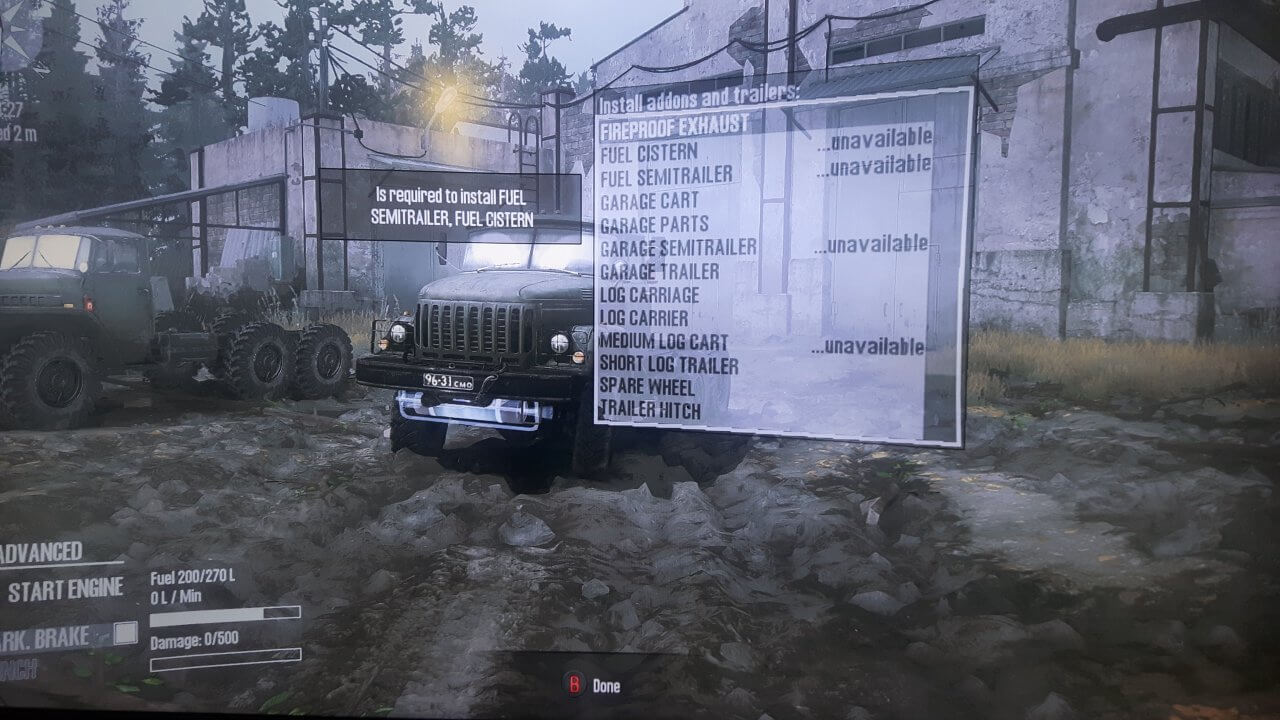 Straight away the game struck me as challenging, even in the tutorial, I soon realised that the physics were spot on. The game design is hard to fault, as the terrain and truck handling is reflected accurately, engines sound realistic and level design is satisfying. 9 dedicated maps are sandboxed, across 6 different terrains. These include Crossing, The Bog, Downhill, Island, SeaShore, and Deluge.
These landscapes react to your vehicle weight and movements, by the advanced physics engine. Which if I do say so, does its job well. It captures the grind and frankly irritatingly slow movements of the truck/trailers well, throughout some of the swamp like environments at hand. If this is your kinda thing, great, it's realistically represented and you'll have a blast. For a newcomer to the series like myself, I found this tedious and on the edge of boring. Reverse Parallel parking a trailer loaded with gear, having to use a winch (which if you can't identify a solid object that can support this you're screwed) left me feeling like I wanted to detach my own eyes out of their sockets. The terrain under the tyres becomes worn out, beyond the point of sensible reality. Vehicles become excruciatingly awkward to accelerate away, traction becoming almost non-existent. no object to support the winch, to describe this as lame is being generous.
Game modes include single player, multiplayer with 3 man co-op and up to 9 challenges. The single player sees you start off on the bog landscape, with the basic aim of delivering logs to the numerous lumber mills. As you progress throughout this mode, challenges become more intense, and points harder to earn. The points for reaching objectives are what can be spent for add-ons including fireproof exhaust's, a garage trailer, and numerous other handy accessories.
The sound of the countryside, and what nature brings is was a pleasant and welcome surprise. The noises that emit from the trailers and mother nature is beautifully authentic. I actually found it refreshing to play a game with no soundtrack for a change. From the mud puddles squelching below the vehicle, to grassy banks that float in the air as you accelerate your truck over them, the textures are almost faultless.
The camera is what makes this equally annoying, controlled with the R Stick, it just doesn't capture the trailers on screen at the right angle. Regardless of how you position the angles on screen. Like an itch that constantly needs scratching, the camera is as deficient, and maddening. This, in turn, makes it hard to anticipate what's behind the vehicle during reverse movements and scenarios of high speed and no damage. First person camera angles are available, but then mirrors are difficult to view, making the experience even more frustrating when one minute you're driving consistent and well, to then coming across an issue you had no chance to avoid.
This is a game that pushes the driver to their limits, planning routes, and carefully steering around obstacles, mud pits, etc. For all that frustration, equally, it amounts to plenty of relief (some would say reward). Despite some positives this has, I had little fun, lovers of trailers and trucks would have a blast, but for newcomers like myself, I found the experience pretty overwhelming.