Great Headset, if a little uncomfortable….
If you're a video game enthusiast and you don't know who Turtle Beach are at this point, then I'd probably call you crazy. For years, they were the top manufacturer of video game accessories, especially headsets, producing some top class products over the years. Year by year, we've had more companies enter with their own headsets, companies such as SteelSeries and Audio Technica, who are only just a couple who produce fantastic headsets. I'm currently using a SteelSeries one myself, and I can't fault the design or performance. Turtle Beach sent over the Ear Force Stealth 600, compatible with both the PlayStation 4 and PlayStation 4 Pro. I've spent the last couple of weeks putting it through its paces and I'll be honest, I feel very mixed about it.
One of the most important things to me in terms of a gaming headset is the overall design and how comfortable the headset is to wear. I wear my headset for hours on a time when gaming so it's crucial to me that it feels comfortable, or I just wouldn't get on with it. After my time with the Ear Force 600, I found it OK to wear, but it did get a little uncomfortable at some times. The design itself I feel could have been a little better. The headphones themselves which are placed on the ear feel completely fine. The mic pops out and doesn't get in the way at all. My main problem with the design of the headset was the top part which sits directly on your head. At times, it became disjointed and rather uncomfortable to wear. Whilst the effort is there from Turtle Beach as it does come with a foamed headband at the top, it didn't quite feel like it was enough comfort. I'd have liked a larger foamed portion on the headband in order to give out more comfort than was already there.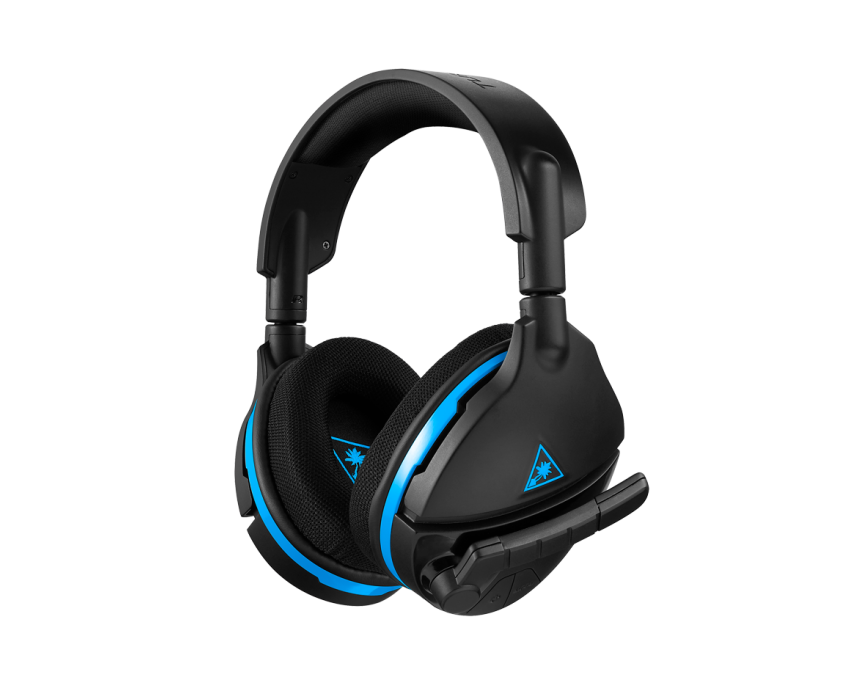 The headset itself is wireless and I was very surprised how easy it was to set up. The headset comes with two attachments, one to charge the headset and also a USB dongle which syncs the headset to the PlayStation 4 that you are running it on. My PlayStation 4 picked it up straight away, even optimizing the settings for me so I could just straight away turn on the headset and have a great experience with it.
Performance wise, I did really enjoy what was coming out of the Ear Force Stealth 600, although I wouldn't say it was the most powerful of headsets that I've used down the years. For £90, I do think the price point is a little steep but don't get me wrong, you are still getting an awful amount of quality of it. Another quick pointer and a little negative in terms of the design of the headset is the overall control and volume buttons. For me, they are placed in a very weird place of the headset, right at the side beneath one of the ear cusps. Their are two controls, one for chat and one for volume. Whilst you will get to grips with it after a bit, there is still quite a lengthy period where you'll find yourself turning the one control down when you meant to alter the other and then having to take the headset off completely to re-alter to your satisfaction. This can get rather annoying, I'd have much preferred an extension unit with the controls on like other manufacturers do with their headsets.
Back to the overall performance, you can't really complain with what is packed within this £90 headset. This Turtle Beach headset offers both stereo and surround sound at a touch of a button. The surround sound feature is the best feature it has. I tested this out with Journey, a game where I always test out a new headset and the soundtrack was just music to my ears (pardon the pun!) and it came out very clear and precise.
The headset doesn't really seem to favour any particular style of game etc. Performance is balanced and clear across many games, such as Final Fantasy XV, Burnout Paradise and even Fortnite. I did feel like the headset gave me a little bit of an advantage actually with Fortnite as I was able to place where shots were coming from in order to protect myself from further attacks. Whilst this Turtle Beach offers some immersion, I still feel as if you could get a better quality headset for around the same price elsewhere.
A Review Unit was provided by Turtle Beach