A promising start for an exciting season!
As a loyal video game nerd and an avid comic book reader, it's only natural to say that I love Telltale games. The American based developers work tirelessly to constantly release fantastic story based graphic adventures using beloved franchises like Batman and Game of Thrones as their centrepiece as well as the lesser know graphic novels as The Wolf Among Us, they have their own familiar look, feature terrific original stories and they deliver atmosphere perfectly with almost every game and none of their catalogue does it better than their Walking Dead series of games, with two seasons under their belt and a third in progress Telltale have captured the zombie apocalypse ethos brilliantly with an original story almost completely separate from the graphic novel/TV series with bringing in new and recurring characters who's lives are almost literally in your hands which makes you care for them a whole lot more. They have come to be some of my favourite games and eagerly wait for each new entry and to be perfectly honest I look forward to it more than each season of the television series.
The minute you start a new game you are given a choice to create your own back-story, this poses a positive for people who probably haven't played through the previous two seasons and it gives their playthrough more substance and depth and gives the loyal fans a second chance to shape their story if they weren't completely satisfied with how their previous season concluded, after which your story begins. Taking place a couple of years after season two you are first thrust into a flashback sequence and the shoes of your new playable character Javier and his experience with the beginning of the infection. Javier is a soul on the search for redemption which is made evident through the hostile relationship between him and his family.
Fast forward to the present time and Javier is on the road with his niece and nephew Mariana and Gabe as well as his sister in law and sexual tension provider Kate as they struggle for survival from the treacherous walkers (or the Muertos as they are referred to by Javier) on their hunt for food and water they are attacked by a group of rebels by the name of 'The New Frontier' however Javi is saved from certain death by a slightly older and experienced Clementine, our central character from the previous two seasons setting the wheels in motion for the third season.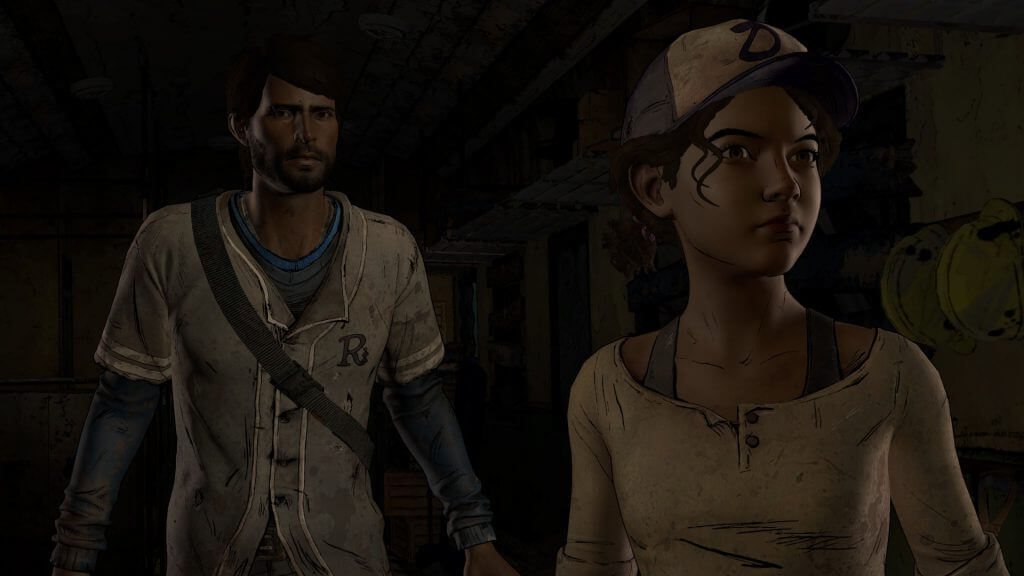 One thing that stood out to me more than anything is the evolution you see in the character of Clementine. When you witness a certain character grow through a series of games it makes you grow more attached and invested in this particular character (another good example is Ezio from the Assassins Creed series). Through the three seasons, you watch Clementine grow from a helpless child to an experienced, savvy and untrusting young lady and in the process becoming the series badass reminiscent of Daryl Dixon from the TV series, albeit 12 years old….
Traits also inspired from the AMC series are also present, the safe haven that is subsequently found and lost to either the walkers or to fellow survivors which cause as much of a threat to that of the undead and character roles such as the family man (Javier) the badass (Clem) the hot-headed teen (Gabe) the love interest (Kate) and the mysterious loner (Jesus) however this does not take much or anything at all from New Frontiers originality it only makes fans of the show feel more at home while playing especially in a genre they may feel unfamiliar with.
In terms of overall look and presentation, Walking Dead: A New Frontier looks incredibly polished and bolstered up while still staying loyal to the artistic form that Telltale is known for, the movement has become more fluid and less robotic. Even minor details have been improved upon; the button prompts have been given a new slick design that looks awesome and the colour schemes focus more on earthy fall colours and dusk. However, the mouth and word coordination can sometimes be a little hit and miss with the characters sometimes looking like a dog eating peanut butter when talking and the tedious load times and lag issues are still there but not as abundant as previous titles.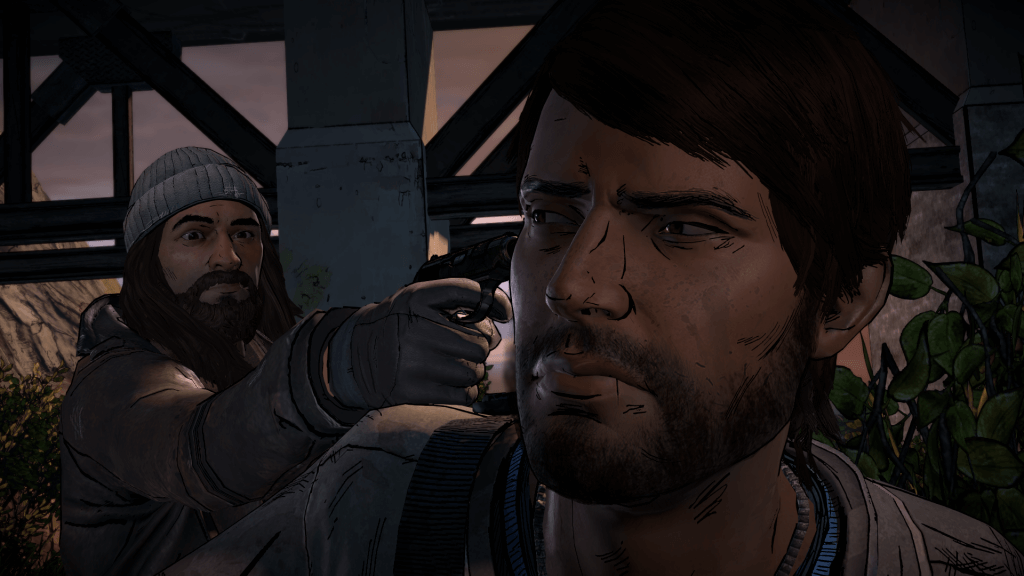 Gameplay is as engrossing as ever, you are compelled to eagerly check every single corner looking for useful items for future use, chat with all of your group in order to build relationships and find more of their back-story and always being on the lookout for the inevitable jump scares, the button prompts provide a somewhat visceral experience (tap X to hold the bullet wound open) which makes you become extremely immersed in the experience. The choices you make in the game are as thrilling as ever, you are stuck in an inner turmoil debating what decision to make, tension building as the time limit slowly counts down, worrying that one bad choice will cost someone's life making your heart race which is utterly fantastic.
In the moments when you find yourself popping caps in walkers, the shooting system used can sometimes snap to your target when you get close but it doesn't diminish the sense of panic as the herd draws closer to you. Game overs come few and far between but when you do find yourself becoming zombie chow you feel at fault because you are given a clear view of what needs to be done and the condescending message of 'YOU ARE DEAD' plays with your psyche in a good way. The ambience is strikingly amplified thanks to the awesome audio and the soundtrack captures each situation with surprising nuance from haunting honky-tonk piano to fast paced percussion the game helps direct emotion in an earnest fashion.
The Walking Dead: A New Frontier Episodes 1 and 2 are available now on PC, PlayStation Network and Xbox LIVE
A PlayStation 4 Review Code was provided by Telltale Games