The Recently retired Brazilian megastar, Ronaldinho leads the star names for the newly released icons. Also included in the FIFA 18 ultimate team online mode are the following legends:
Russian Goalkeeping icon Lev Yashin
Germany's legendary Lothar Matthaus
Goalscoring machine, Marco Van Basten
Ronaldinho, Brazil's cheeky Samba Star.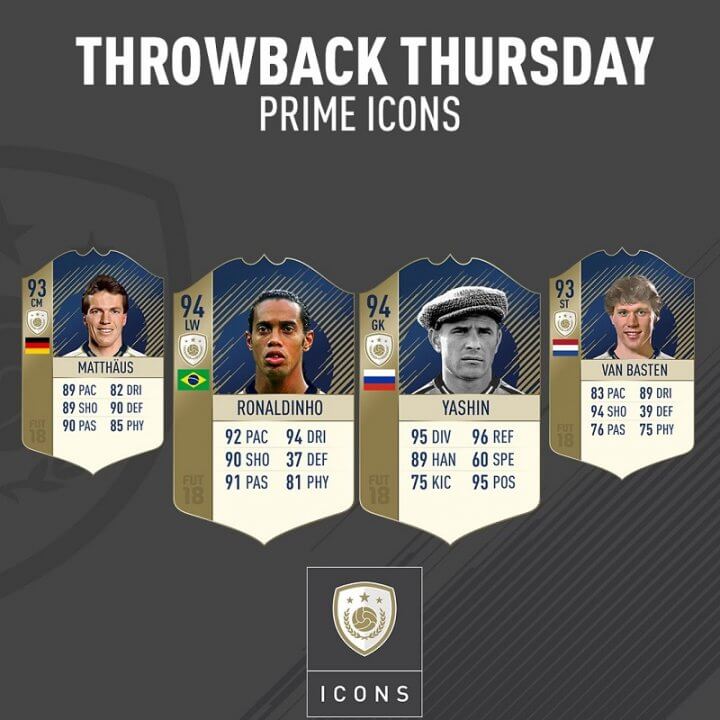 The standout name is obviously Brazil's Ronaldinho, for many, including myself he was the main attraction in world football a decade ago. The smile on his face that would light up world football, all the spell bounding magical flip/flap's, rabonas, rainbow flick's, and stepover after stepover, this guy seemed to have no limits, it's like Ronaldinho studied the rule book, and not only mastered it but completely redefined it. When the likes of Ronaldo and Rivaldo were clearly on the decline, Ronaldinho stepped up and he touched the hearts of many around the world. For that Ronaldinho I have to thank you, my standout Ronaldinho moment was the UEFA champions league tie FC Barcelona contested against Chelsea in 2005, outside the box, one touch, bang, the deftest and most elegant of toe pokes you'll ever see. Peter Cech was left mesmerised in goal, and the whole Chelsea side in complete disbelief at the sheer audacity by Ronaldinho to even pull it off.
Never had I witnessed such a cheeky, outrageous moment. That goal summed Ronaldinho up almost perfectly, being cheeky, daring, unpredictable, and best of all, WORLD CLASS.
Onto his FIFA 18 card, his prime role being the LW position with a 94 rating. With 92 pace, 94 dribbling, 81 physical, 90 shooting and 91 passing attributes, R10 is quite clearly a master on the field. A devasting card with a high attacking fear factor, and 5 * skills, not only will this card be pricey, but very high in demand.
Next, we have Lothar Mattheus in the CM role and a 93 rating. This card really does put the T in tank, a superbly balanced card with 89 pace, 89 shooting, 90 passing, 90 defending, 82 dribbling and  85 physical. The complete midfielder, again another pricey card, but at least on paper, looks worth every bit of it.
Marco Van Basten gets the star treatment from EA this week, and the prime card in a Striking role sure is tasty. With a 94 rating and the main attribute being the 94 shooting skill set, this guy will be banging them in like there's no tomorrow. Due to the pace factor of 83, and a very modest 75 physical, this card could well settle relatively cheap, and with the 3*skill moves it really is a case of just getting the ball in the box, and MVB will be the fox in the box.
Lastly, we have Lev Yashin, an elite goalkeeper with a very impressive 94 rating, with key stats including 96 reflexes, 95 positioning, and 95 diving, I wouldn't fancy my chances against this legend between the posts. (Is it me, or does he look like some random off peaky blinders??)
So that finishes this week's FUT 18 icon's selection, do you plan to purchase any? Whats your favourite Ronaldinho moment, drop me a comment in the box below, thank you.