I am a really big Final Fantasy fan but I must admit that Final Fantasy XII avoided me somewhat. I have no idea why, but when the PlayStation 4 remaster was announced, I was determined to make up for not playing it. It's coming this July, and Square Enix are bring some great special editions for it….
Details on the Collector's, Limited and Digital Editions have been revealed today. Firstly, the Collector's Edition is available in limited quantities via the Square Enix store, and will contain the following:
"Judge Magisters" Mini Bust Set: Featuring busts of Judges Bergan, Drace, Gabranth, Ghis, and Zargabaath available exclusively to the Collector's Edition and not sold separately
Selection of soundtrack music from famed composer Hitoshi Sakimoto
Steelbook featuring exclusive art to the Collector's Edition
Set of Six Art Cards: Featuring Vaan, Ashe, Basch, Fran & Balthier, Penelo and World of Ivalice
Background Music DLC: allowing fans to listen to the high-quality FINAL FANTASY XII original soundtrack in-game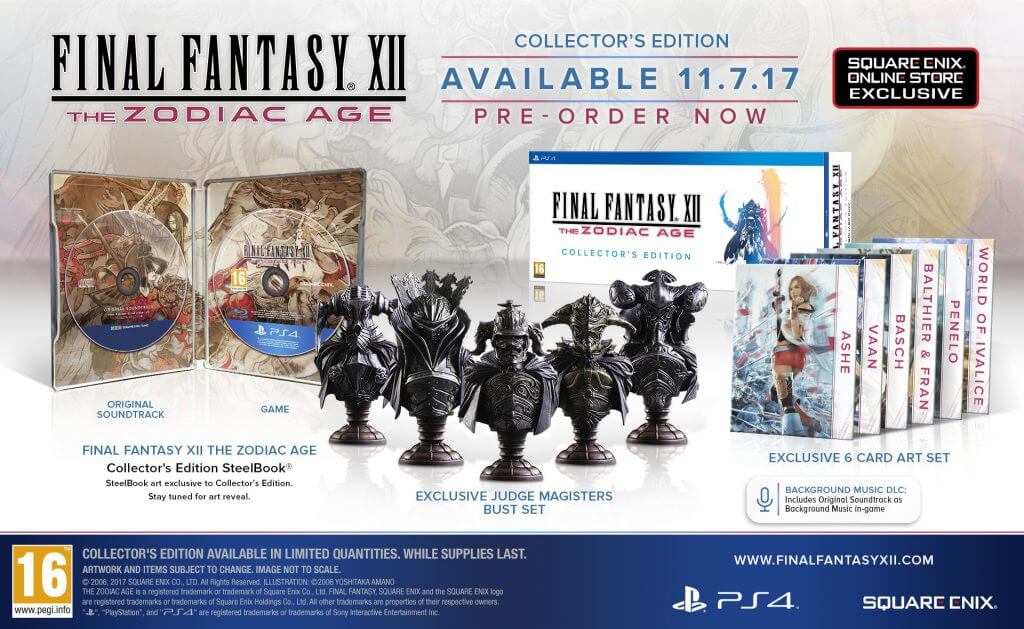 The Limited Edition will include the game, an exclusive steelbook featuring artwork by renowned illustrator Akihiko Yoshida, as well as Background Music DLC. The Digital Edition will let players receive a static PlayStation®4 system theme and four music tracks by composer, Hitoshi Sakimoto, to be unlocked upon release.
Are you going to pick up any of these special editions? Be sure to let us know in the comment section below.