If pc gaming is your thing, and you're a fan of Alienware products then the chances are you've already purchased an Alienware laptop. (If not, what's wrong with you, purchase immediately, that's an order gaming comrades!) then why not purchase the perfect companion to your beast slaying, game conquering, splendid laptop with Dell's Alienware AW2518 gaming monitor.
Let me start off with the negatives, no 4k support! What were you thinking Dell? 4k is having a boom in the market now, and it's a real shame the monitors don't support this. In a day and age where most companies are jumping on the ultra HD bandwagon, I expected Dell's gaming monitor to be on the same page. Clearly, it's not, and that sucks.
Secondly, it's on the pricey side, with most major retailers as of the date of this review charging around £449. (ouch indeed)
Onto the more positive aspects of this slick, stylish, and frankly delightful piece of equipment. In keeping with recent Alienware tech, it doesn't disappoint in style at all. Expertly crafted with a black and silver design, three LED lines, along with an illuminating Alienware logo, are in sight at the back of the monitor, and much like it's laptop brothers, it's visually stunning to look at. The colour palate can be edited so different colours will light up. These can all collaborate with other Alienware products, like the laptop via Alien FX studio.
Buttons to turn on the monitor and play around with settings like pre-set modes, dark stabilizer, game enhance mode, contrast, and response times are all in the lower right corner, on the underside of the AW 2518's bezel. These are easy to locate, with clear on-screen instructions, while relatively clicking quietly.  On the subject of bezels, these are very thin around the rears and top, they don't dominate the screen. The screen is easily accessible and tends to truly excel when facing the monitor in front of the user, as opposed to at an angle where the viewing experience dips.  The monitor doesn't overwhelm in a family room, as it's not big and chunky. Yet it feels at home, because of how stylish, and relatively thin the design comes across.
Located in the centre at the back, are the ports and slots that compromise of a line-out audio port, three USB 3.0 ports, a headphone jack, USB upstreaming, display port, and lastly a power connector slot.
As for the AW2518H's performance, in pure gaming terms, it nails it. Offering a 240Hz refresh rate, low response times of 1ms and NVIDIA G-sync support, this monitor is about as good as it gets in terms of delivering an enhanced gaming performance. Contrast rates come in at 1000:1, with crisp black and white levels, further enhancing the quality output.
Partaking in online 25man raids in World of Warcraft, input lag was non-existent, refresh rates maintained a high and quick standard, with the overall experience feeling very responsive and polished.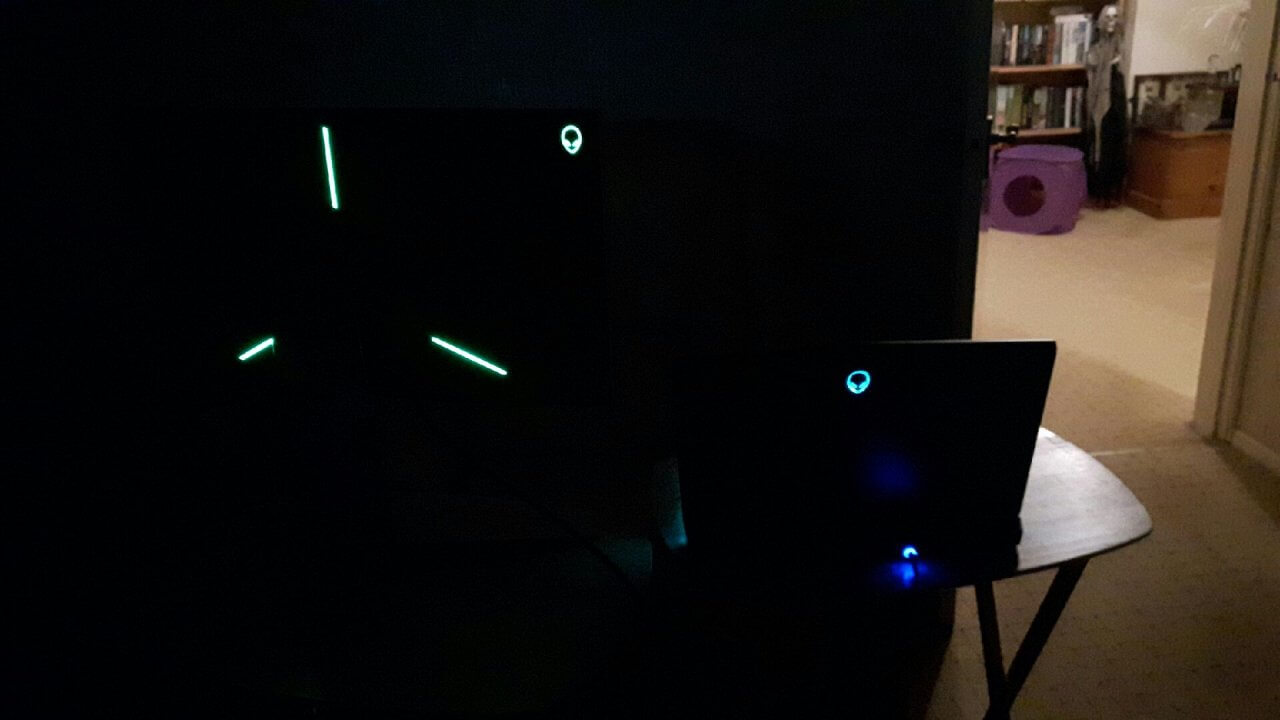 Wrapping this up, Alienware's first offering on the hardware side of the market for monitors, won't blow you away if picture quality is what you're after. As the lack of 4k will no doubt affect this, but then if you're a gamer purchasing this, you wouldn't be buying it for 4k resolution anyway. As it delivers lavishly on performance, there won't be many if any better on the market for what it claims to do.