WHAT THE HELL HAPPENED TO THE SMURFS!?!
To this day it still amazes me that with the vast gaming library that helped revolutionise the PlayStation 2 and made it one of the most successful home consoles of all time still has a few hidden gems to offer. And with such a diverse and highly regarded back catalogue, of course the developers and publishers of today are going to want to jump on the vast band wagon that is remastered games, not only to bring the feeling of nostalgia for the people that played the original and a chance to play their old favourites on their current gen consoles and hopefully show younger gamers something they have yet to discover, but also because……ya know…….CHA-CHING!!!! Well now we have a new one in our presence people. Rogue Trooper Redux is based on the 2000AD comic books and gathered enough of a following to warrant its own multi-platform game back in 2006 which in itself gained quite a cult following thanks to its intensity, spirit and third person shooter style which was on the rise at the time. However though the remaster does make leaps and bounds in terms of aesthetic, showing what our current gen of home consoles is capable of, it inevitable doesn't reach out to newcomers with its dated gameplay.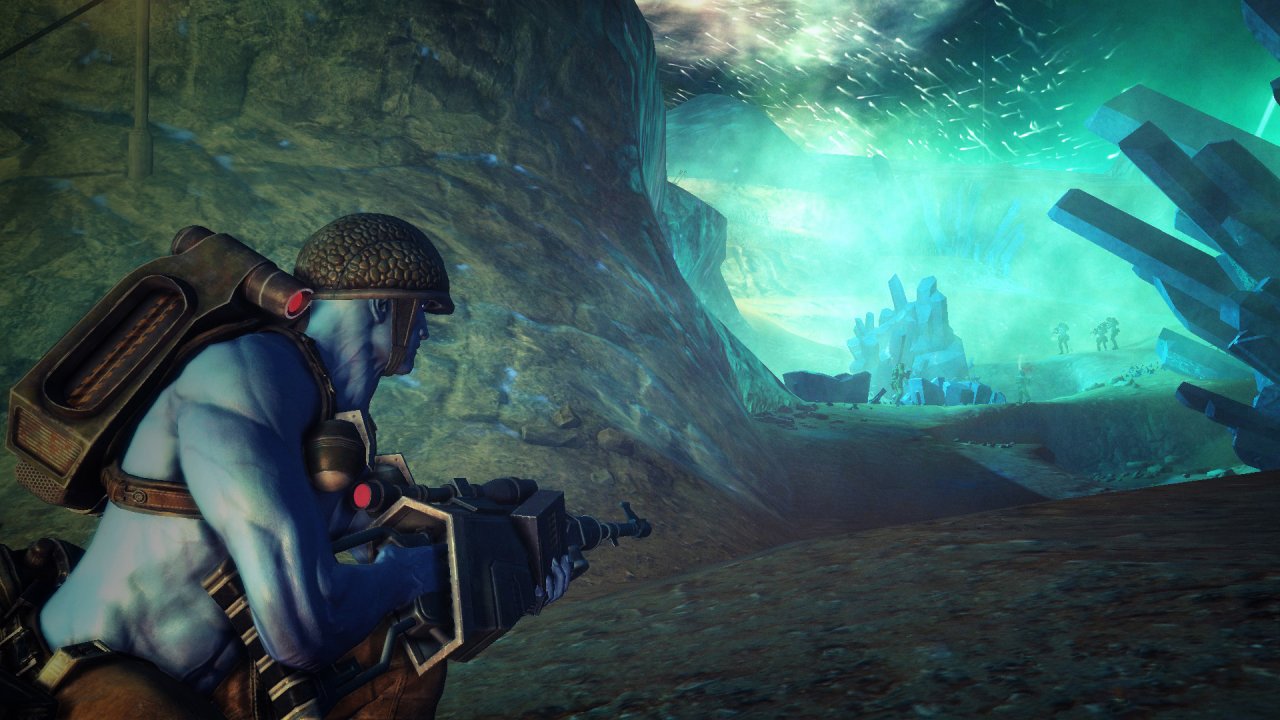 Rogue Trooper takes place on the planet Nu-Earth where they is a perpetual war going on between the Southers and the Norts. With all forms of chemical and biological weapons being used from both sides the planet has become poisoned and practically uninhabitable unless wearing a bio-suit. Because of this the southers created a race of soldiers immune to the planet's atmosphere making them the superior troopers in this battle. You play as Rogue, one of these genetically produced soldiers. Rogue Trooper's story as well as the character of Rogue were nominated for Baftas back in 2006 something which I found surprising after experiencing the remaster for a few hours but once delving deeper into everything I eventually found a story that has been done before but it certainly works for this game and even has some aspects unique to the franchise, the one downfall I found with the screenwriting was the troopers themselves. They are essentially mass-produced puppets and it's sad to say that through most of my playthrough they act as such, perhaps they wanted to break the norm from the whole soulless lifeforms that learn humanity (even though you do see signs of that) but overall the mannerisms, voices and lack of personality of the protagonists are a let down.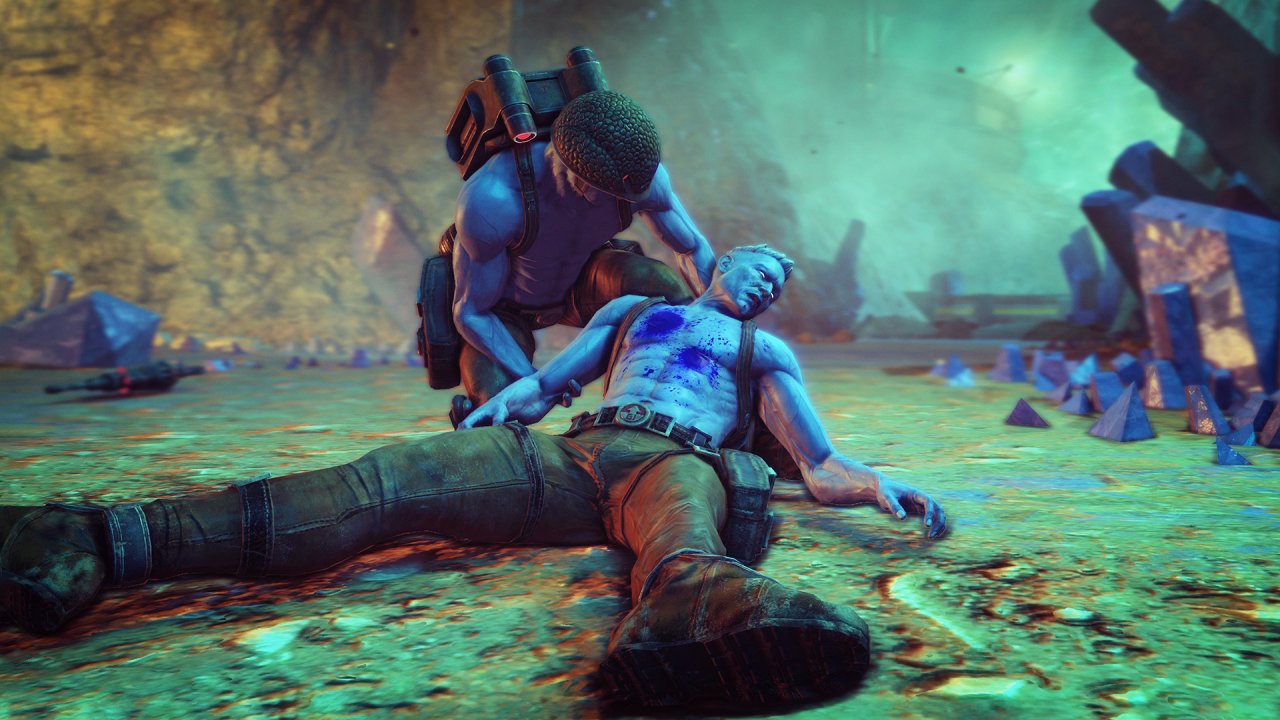 But there is always a bright side. Compared to the 2006 original, Rogue Trooper Redux looks amazing in comparison and is truly a testament to where we are right now and what's possible in recrafting games of the past. The character models are a lot bolder, are polished up to near perfection and somehow (this is gonna sound weird) bring a lot more vitality to the lifeless faces of these soldiers. Also, the different environments and terrains you discover throughout your rampage on Nu-Earth may not be the most colourful and eccentric but the overall grim façade, the dark colours, rocky surroundings and the rustic indoor battlegrounds suits this particular title down to a tee and along with the character models show some improvement from the original, and the air battles ravaging in the background along with distant gunfire and explosions really shroud the player in the immersion of the game. Despite these two elements combining to make a remaster that is pleasant to any gamers eye, Rogue Trooper Redux's features very little musical composition with a very lacklustre and generic synth heavy loop bringing you into the main menu setting tone, but during gameplay the sounds of bullets flying, soldier's cries, bombs wreaking havoc and the overall rage of war makes up for this fantastically, in this case you can cancel the orchestra.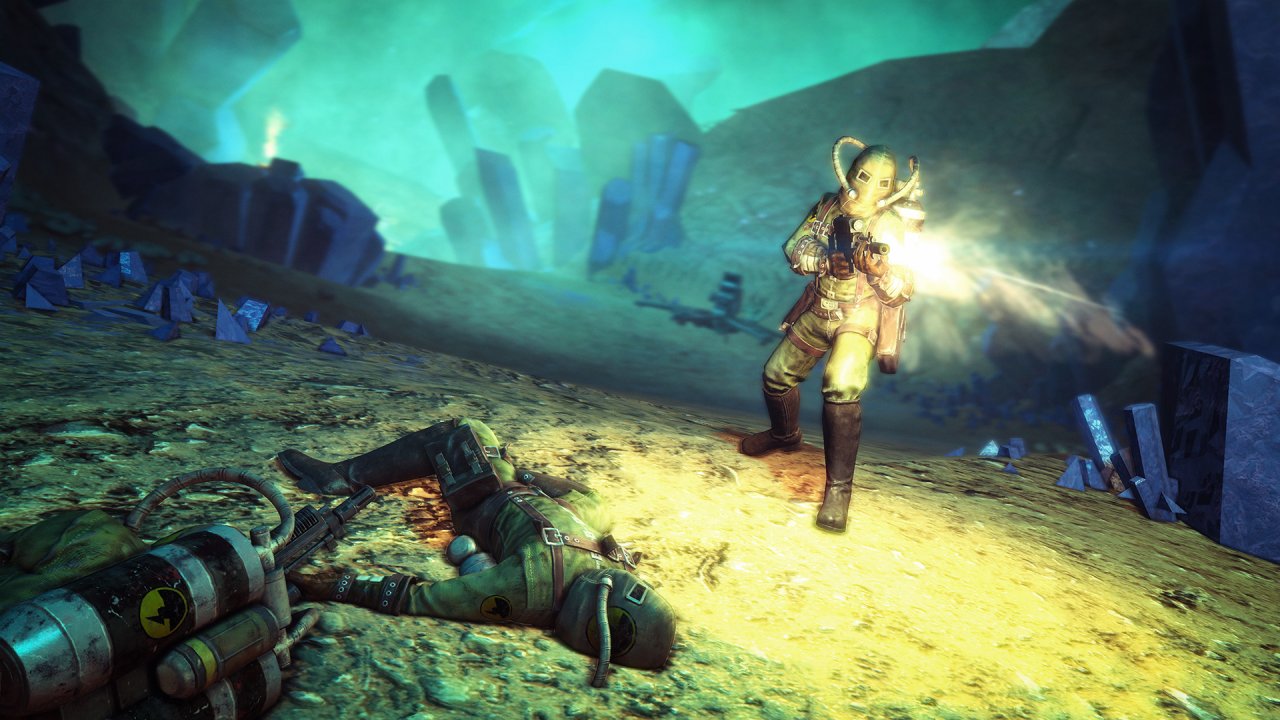 Gameplay wise, the gameplay style from 11 years ago may seem a bit foreign and dated to people playing this game for the first time the third person cover based shooting style lacks excitement with it just feeling like you're just going from point A to point B, but kudos to some of the enemies you come across as some do require some thought and skill to overcome and in the grand scheme you do see Rogue Trooper's style in a lot of recent titles such as Gears of War and Uncharted which also feature the world's most convenient battlefields. The mechanics you use throughout the campaign are textbook to the genre but are presented in a way that is unique to this game, during the game some of your team fall in battle but Rogue retrieves their biochips containing their personalities and adds them to his equipment to be used in different ways. Gunnar upgrades your weapons and helps you craft new ones, Bagman helps you to build recover items and ammo using salvage you find on the battlefield and Helm will aid you in hacking doors and security systems. These are good additions to otherwise dull gameplay and helps set Rogue Trooper Redux apart from others within the third person shooter genre. Rogue Trooper Redux also features a couple of extra game modes. In Stronghold you have to protect an injured comrade for a certain amount of time against endless wave of Nort troops, progressive where you and our squad make your way through different maps to a safe point all taking down ore waves of enemies, both of which are a good romp if you want time away from the campaign. There is online multiplayer but don't expect any kind of campaigns or deathmatches.