Grab your woolies, it's that time again
Rune Factory 3 Special is a remaster of the original Nintendo DS game which originally released in 2009 in Japan. The series has established itself as a sister to the Harvest Moon series with combat added in, a self contained story and a plethora of advanced features when it comes to farming and character relationships. In essence it is everything I wanted since the original Harvest Moon games while good at the time lacked a certain "je ne sais quoi"
Wierdly enough I arrived quite late into the Rune Factory game despite owning Rune Factory 4 Special on the Nintendo Switch for the longest time. It was only after I had put well over 150 hours into Rune Factory 5 that I decided to go back and play previous installments. I then realised I missed out and Rune Factory quickly became one of my now favourite series of games.
Rune Factory 3 Special much like Rune Factory 4 Special takes the original game and gives it a fresh coat of paint, however as the original Rune Factory 3 was on the DS, the graphical jump is a lot more noticeable when playing on the Switch. Graphically it is a massive improvement but have all the quality of life features that the game has adopted over the years came to fruition? Rune Factory 3 Special has you play as a half-boy half-monster named Micah. After discovering his true nature early on he decides to keep this to himself whilst interacting with a race known as the Univir who are not keen on humans while still maintaining his relationship with the human race who are also aware of the Univir but decide not to engage with them. On top of this a giant tree which Micah was pretty much forced to live in grows bigger. The general premise of the story is interesting and soon enough you will meet a diverse cast of characters who all have varying personalities and traits.
As I started meeting the locals, I noticed a lot of the characters seemed to have reoccurring personalities that matched those from other Rune Factory games. Karina for example shares the same personality traits of Clorica from Rune Factory 4 and Elsje from Rune Factory 5 as all these characters are always incredibly lazy and half asleep anytime that you talk to them. Sherman is another character who shares their traits with Porcoline and Palmo from Rune Factory 4 and 5 respectively as all 3 characters share a stocky build, similar facial features and usually have funny dialogue to accompany their character. Sherman definitely wins though as he speaks in opposites. Getting greeted by him with the phrase "Dreadful morning to you" never gets old.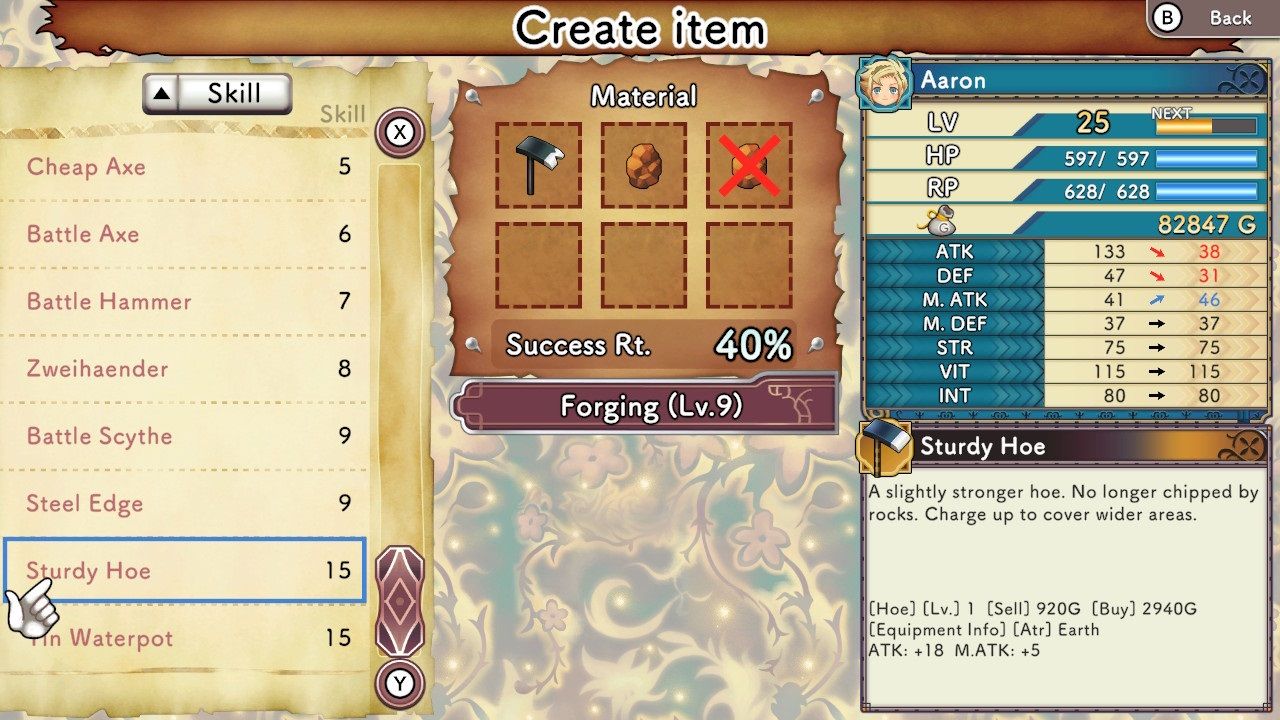 Much like other Rune Factory games the game throws quite a varying amount of activities at you, although to begin with you will be following the tutorials and getting to know the townspeople. This will in turn allow you to learn things such as Fishing, unlocking the Kitchen, learning new recipes and eventually expanding your home inside the hollowed out tree.
As Micah only has a finite amount of energy everyday tasks eventually will render him tired and as there is a lot to do such as tending the farm and fighting, you will end up more often than not passing out. I will say Rune Factory 3 is the most difficult of the Rune Factory games I have played thus far, anyone familiar with the game will know that RP which is your energy and separate from you HP which is your health depletes anytime you use your tools, in Rune Factory 3 Special however attacking will also deplete your RP meaning that both farming and fighting needs to be balanced if you want to get anywhere in Rune Factory 3 Special.
I have on more occasions than I can count passed out more in Rune Factory 3 within the first 2 in game months than I have in Rune Factory 5 after having reached the end of the second year. The enemies will slap you around around pretty easy and if you somehow realise you've eaten into your HP after running out of Stamina to fight you can find yourself quickly in the Infirmary. For anyone brave enough there is a Hell difficulty in Rune Factory 3 Special but I am playing on normal and still come close to passing out on many occasions. Expect to use a lot of Stamina when crafting as this will also eat a lot of it up very quickly so making sure to have a lot of food on hand is helpful here. Making a lot of the same Items can wear out quickly but it will allow you to make better equipment overall so it is definitely worth doing.
There is more than just fighting and farming however as you can raise your friendship with all the townsfolk and of course the Bachelorettes of the game, you can partake in many requests for the villagers and raise a team of monsters in your barn. All these activities require little to no stamina and can be easily merged into your daily routine if you have time or you can spend a whole day doing so, the beauty of Rune Factory 3 Special is there is no time limit on what you do.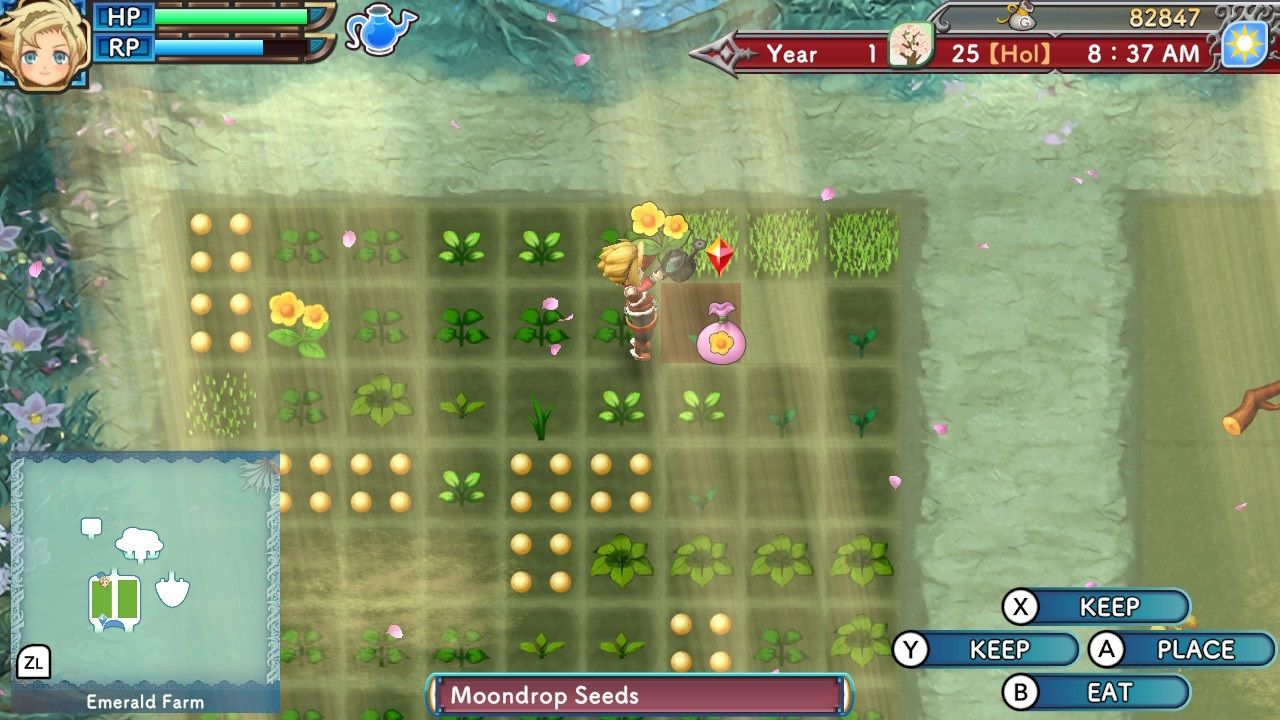 Once again all your personal skills can be levelled, Fishing, Weapon Skills, Resistances and things such as Sleeping, all these increase in levels will allow you to become more proficient in that skill and if you ever get bored of levelling one then no problem, you can grind one of the others, it's definitely a dopamine kick for those that like to grind levels in games. When harvesting your crops you will have the chance of course to gain a few extra levels on any one of your skills although it is a slight pain that the game doesn't tell you which one it is.
The game plays really well and anyone familiar with the controls will quickly adapt to how it plays. You can quickly change your loadout from planting vegetables to watering them to picking an item you want to ship then putting it in the shipping container. Be warned however that once an item goes into the shipping container it is lost forever. There is also no interface that you can quick move items into the shipping container either meaning you have to manually select each item to put in there which does take up in game time and the days go by very quick in Rune Factory 3 Special, I can't tell you have many times I have stayed awake and gone into the next without even realising, I had the same issue in real life while playing Rune Factory 3 Special, I just don't advise you do the same or you will end up like Karina, tired the next day in her menial store job.
One thing I always enjoy with the Rune Factory games is the soundtrack and Rune Factory 3 Special is no different. It is the first time I am hearing it and certainly wont be the last and if you've heard it all before then I hope it makes you feel nostalgic. Rune Factory 3 Special is a game that will lure you in with it's addictive nature and you can certainly spend hundreds of hours here much like other entries in the series, if you've never played a Rune Factory then Rune Factory 3 Special is a great place to start.
A Nintendo Switch code was provided by XSEED Games