Lastly today, we have the "supposedly" I use that term loosely, the best defence for the last calendar year. Available in packs from 6 pm, these elite defenders/goalkeeper shall be in packs for 24hours only.
David De Gea
Starting off with De Gea, The Manchester United shot-stopper is arguably the best GK in world football, based on raw ability/talent alone. Match defining saves, with Superman-like reflexes, David De Gea is easily worth 15points a season. However, his inclusion may baffle some, De Gea was not a prominent figure between the sticks during Manchester United's double trophy winning success last season, and despite his league heroics, playing a huge part in maintaining United's record as conceding the least amount of goals throughout the season, the club managed a pretty poor 6th placed finish in the premiership. For me personally, he deserves his place in the lineup. So, as if his normal card wasn't tough enough to beat, De Gea's TOTY card has a 97 rating with 98 reflexes, 97 diving, 92 handling, 95 kicking and 92 positioning…Strikers be afraid, be very afraid!
Sergio Ramos
The veteran Spanish CB (soon to be 32) played a critical role in the 5 games featured in the champions league, scoring 1 goal and maintaining Real Madrid's dominance of the European Cup. Ramos was prolific in his homeland boasting an impressive 7 goals in La Liga, leading Real Madrid to another La Liga title win. One cannot argue with his inclusion. 86 pace, 98 Defence, 96 Physical, 88 passing, this guy can do everything, the best CB in-game, his price tag will no doubt reflect how awesome the card looks.
Leonardo Bonucci
Presumably, Bonucci makes the team because of Juve's stellar 2016/2017 campaign, winning Serie A, the Coppa Italia and finishing runners-up in the champions league. Since transferring to Ac Milan, the Italian centre-half must be rueing the decision. He's looked useless, out of his depth,  and a complete shadow of the player feared by attacking talent last season. For me, Bonucci shouldn't be anywhere near this, I could name you Diego Godin, Azpilicueta, and also Koulibaly one of whom should be in that spot. With a rock solid 96 rating, Bonucci will be difficult to navigate an attack around, however, this card does look considerably worse than the Ramos CB card, so expect the price to reflect this, being relatively cheap for a TOTY special.
Dani Alves
Dani Alves enjoyed a great season with Juventus, with his swashbuckling displays up and down the right flank, Alves played his part in the successful season Juventus had. Including a memorable campaign in the champions league, contributing 3 goals and 4 assists. Dani Alves is perhaps on the list for the final time, he's beginning to show signs of physical decline, at the age of 34, those cheetah like bursts of speed he once possessed, are beginning to wane. Dani Alves is having a fine start to life in Ligue 1 with PSG. With a rating of 93, and stats including 80 shooting, 91 dribbling, 93 pace and 88 defence, for those of you who fancy rolling back the years, this card is an absolute must. Can't really argue with this choice, he was clearly more effective than the likes of Dani Carvajal, Kyle Walker and Kimmich across the season.
Marcelo
Lastly, we have Brazil's Marcelo occupying the left back position. Much like his Real Madrid team-mates, Marcelo had a very productive season with a total of 12 assists across the champions league and La Liga, Marcelo was the defensive assist king across the big leagues. Managing to achieve a career best in the process. Some may make a case for David Alaba deserving this spot also. The full-back of Bayern Munich enjoyed a solid season, which included 6 assists and some stellar defensive displays. With a 94 rating, 95 dribbling, 90 pace, and 91 physical attributes, this card almost seems too good to play so far back on the pitch, and will no doubt dominate that side of the pitch in-game.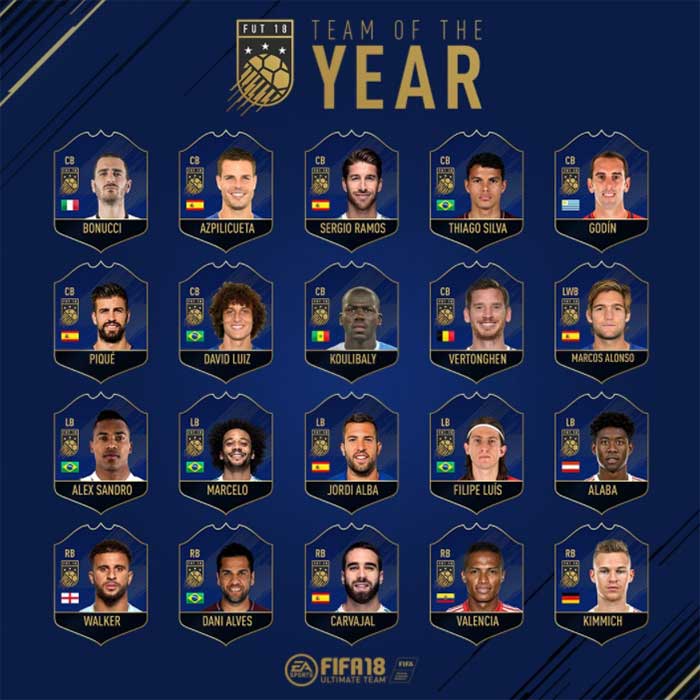 So there we have it, the FUT 18 TOTY, to summarise I think the selection is pretty reflective and fair of the best 11, the only player I'd certainly take out being Bonucci, with cases for/against Ronaldo (poor campaign this season), and De Gea. Do you agree with the voters? Let me know in the box below.