A New year, A New FUT Team Of The Year, Hooraaay.
The votes have been cast, and as selected by the FIFA voting committee, these players are the select few who made the final list for the FIFA 18 Ultimate Team Online Mode. Nominations ranged from all the major leagues across Europe, the select 11 on this team will be available for a limited time only in FUT packs.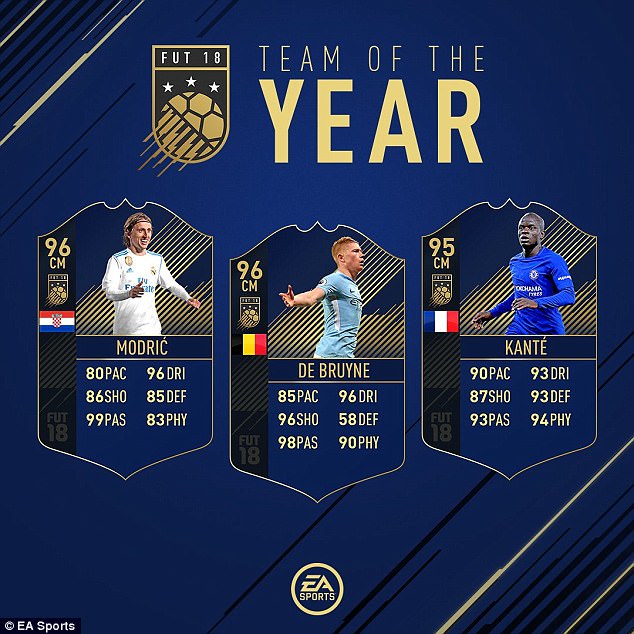 Kevin De Bruyne
Starting off with the midfield we have Manchester City's Kevin De Bruyne, the Belgium attacking midfielder has really come into his own over the last 12months, causing havoc amongst defences with his creative goal assisting plays, and becoming every goalkeeper's worst dream with some absolute belters from long range. With stat's consisting of 96 shooting, and 98 passing, the ex Chelsea man is one player many will desire for their teams.
N'golo Kante
Onto another Premier League player, we have Claude Makelele V.2, N'golo Kante, Chelsea's midfield rock has arguably been the most effective box to box midfielder in recent seasons, a back to back title winner his inclusion can't be questioned. An impenetrable player with an engine/warrior like attitude, that few can rival. N'golo Kante rightfully earns his place in the FUT 18 TOTY. If one player was to epitomise beast, then this is it. A complete card with no weakness, Kante's TOTY special card will no doubt be on many's wishlist.
Luka Modric
The Final midfielder in FUT's TOTY is Real Madrid's Luka Modric, the talented Croatian centre midfielder played a crucial role in Real Madrid's 2017 double trophy success (La Liga/Champions League), dictating the tempo in many games, Modric brings to the table, skill and creative genius that many do not. His ability to control the tempo of games, and having a big influence commanding the midfield area. There's no doubt if the Croatian midfield maestro was having an off day, Real wouldn't be as effective. His FUT card is above 80 in all areas, the standout stat is his world-class passing ability. With a final rating of 99 in this area, Modric will be pinging those defence-splitting passes with his eyes closed!!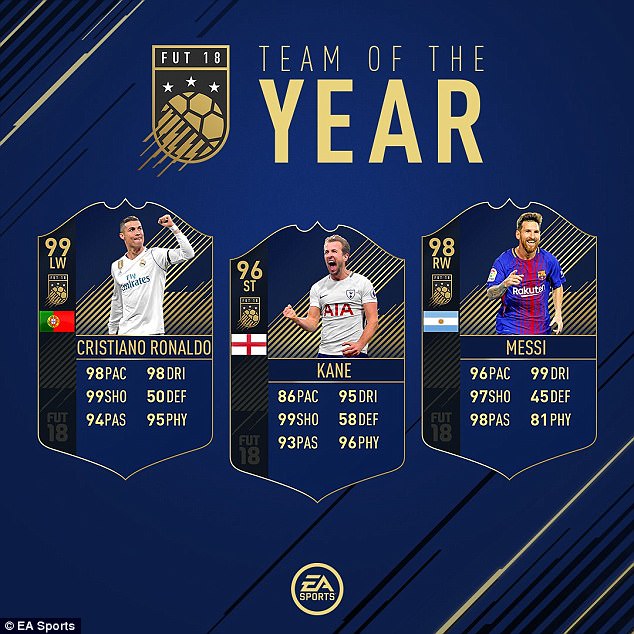 Onto the forward line-up, and one really can't argue with the choices on offer here.
Cristiano Ronaldo
Real Madrid/Portugal's golden boy earns his place in the lineup, coming off the back of a fifth Ballon d'Or win. In recent month's Ronaldo has perhaps shown moments of decline, but one really can't argue with just how clinical he was last season and his vital contributions to Real's double success. Earning MOTM in the 2017 champions league final. If this is to be Ronaldo's last inclusion on the list, who would wanna begrudge the once in a lifetime Portuguese legend of this? His FUT team of the year card is an absolute tank, 99 rating, 99 Shooting, I DO NOT WANNA BE PLAYING AGAINST THIS CARD! (If you're reading this EA..*wink, wink*)
Harry Kane
Onto the golden boy of English football, and what a year Harry Kane has had. Smashing Alan Shearer's calendar year scoring feats in the premier league. Leading Tottenham into the champions league and becoming a big player on the global stage, he's clinical, has superb technique and is a proper marksman in front of goal Kane fully warrants this recognition. So as we begin to see the natural decline of Ronaldo and Messi, we also see the rise of Kane. Some would have argued for Neymar to be included, but for me, Kane get's in every time. His card rating of 96, makes Kane a very formidable, overpowering player. Deadly stats in front of goal, expect this card to be pricey and popular.
Lionel Messi
The pint-sized little Messi is the last forward in the first 11 and is a worthy winner. A wizard on the ball, with unrivalled technique and close ball control. Barcelona may not have had a great 2017 campaign but Messi still cast his magic, achieving a total 48 goals in 41 games across La Liga and the champions league. Enjoy him while he's here, Lionel Messi will go down as perhaps the greatest of all time, a Team Of The Year team just wouldn't be the same without the legend from Argentina. Messi's 98 rated card is almost flawless, I can sense the carnage and rage quitting already!
Tommorow EA will be unveiling the defence, any selections in the team you disagree with? Which card do you plan to purchase out of the TOTY picks? Let me know in the comment box below.